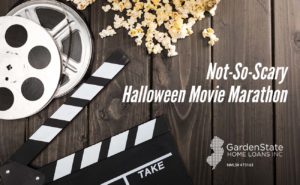 Many people get caught up in the scary movie craze that October and Halloween brings. However, there are plenty of movies for you to watch if you don't like to be scared. Here's a not-so-scary movie marathon to get you through the Halloween month.
It's the Great Pumpkin, Charlie Brown

It's the Great Pumpkin, Charlie Brown is one of the classics. Made in 1966, this animation of the cartoon strip feature Charlie Brown and the gang as they celebrate Halloween. Linus hopes that he will be visited by the Great Pumpkin while Charlie Brown and the others go to a Halloween party and trick-or-treating.

Casper

Casper is a young ghost who peacefully haunts a Maine mansion. Specialist James Harvey arrives to the home to communicate with Casper, bringing along his teenage daughter, Kat. Casper quickly falls in love with Kat, but their potential relationship comes with complications. In addition to his transparent state, his uncles are troublemakers and are up to mischievous tricks.

Hocus Pocus

After moving to Salem, Max Dennison, his sister Dani, and their new friend Allison explore an abandoned house. When Max dismisses a story Allison tells them as superstitious, he accidently frees a coven of witches who used to live in the house. Now to kids must steal the witches' book of spells to stop them from becoming immortal.

Halloweentown

After learning that she's a witch, Marnie visits Halloweentown, a town full of other supernatural creatures. However, soon weird things start happening around town. Marnie uses her newfound powers to help save Halloweentown from the curse coming down upon it.

The Nightmare Before Christmas

Jack Skellington, the pumpkin king, has become bored of the same routine of scaring people in the "real world". One day, Jack stumbles upon Christmastown. The bright colors and warm spirits gives Jack a fresh breath of air. He plots to steal Christmas by kidnapping Santa Claus and taking over the role himself. However, he soon realizes that even the best plans can take a wrong turn.

The Haunted Mansion

When real estate agent Jim Evers is accused by his wife Sara of neglecting his family, he decides to take his family on a vacation. Along the way, they stop at a mansion that he has been asked to sell. Upon arriving, they learn that the mansion is haunted by Master Gracey, his butler Ramsley, and two other servants.

Monster House

No one believes three young people when they say that a neighboring home is a living creature and means to do harm. With Halloween steadily approaching, they must find a way to destroy the home before it finds victims in innocent trick-or-treaters.

The Addams Family

The Addams family is thrilled when a man claiming to be Gomez Addams brother, Fester appears at their family home. However, Morticia, is skeptical when the man cannot recall details of Fester's life. Fester manages to get the Addams family evicted from their home. Soon, Gomez realizes that two men are conspiring to get the Addams family fortune and finds that he must challenge the man who says he's Fester.

Beetlejuice

Barbara and Adam Maitland find themselves haunting their country home after dying in a car accident. When the Deetzes and their teen daughter Lydia buy the home, the Maitlands try to scare them away, without success. Their scare tactics attract Beetlejuice, whose attempts to help become dangerous for both the Maitlands and Lydia.

Scooby-Doo

Two years after Mystery Inc. closed its doors, Scooby-Doo and the gang, Fred, Daphne, Shaggy, and Velma, are individually summoned to Spooky Island. There they investigate a series of paranormal activities that have been occurring at the Spring Break hot spot.

The Corpse Bride

Victor and Victoria's families have arranged from them to be married, and even though they like each other, Victor is nervous about the ceremony. While in the forest practicing for the wedding, a tree-branch-turned-hand drags him to the land of the dead. The hand belongs to Emily, a bride who was murdered after eloping. Now, she wants to marry Victor. Victor must find a way to get back to the land of the living before Victoria marries someone else.

The Little Vampire

After moving to Scotland with his parents, Tony finds it hard to make friends at his new school. The bullying from the other boys is certainly not helping the situation. Then, he meets Rudolph, a kid vampire, and he finally finds the friend he's been searching for. However, when a vampire hunter threatens to eradicate the vampire race, Tony must find courage to save his friend.

Ghostbusters

In the original Ghostbusters, recently-unemployed university scientists decide to become ghostbusters. On their path to wage a battle with the supernatural for money, they accidently upon a gateway to another dimension letting evil out into the city. Now, they must save New York from inevitable destruction. In 2016, a new version of Ghostbusters was released. In this movie, paranormal researcher Abby Yates and physicist Erin Gilbert are trying to prove the existence of ghosts in today's society. When apparitions begin appearing in Manhattan, they turn to Jillian Holtzmann and Patty Tolan for help.