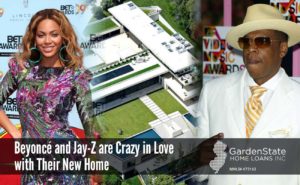 After two years of house hunting, Jay-Z and Beyoncé have finally found their dream home! A 30,000 square foot Bel Air mansion designed by Irish architect Paul McClean. It only cost the couple a whopping $88 million dollars. (Pocket change!) If it's a standard 30-year mortgage with 4% interest and a $35.2 million down payment couple's estimated monthly mortgage payments would come out to be $252k.
Imagine paying that every month! Next time you think your mortgage is high, just think about Jay-Z and Beyoncé's, it'll bring you some relief. Of course, the world renowned couple can afford this expensive home because of their successful careers. According to Forbes, the couple's wealth totals close to $1.16 billion! So it's fair enough to say they won't be losing much sleep over their mortgage payments.
Jay-Z and Beyoncé's newly purchased home is the highest home sale so far in 2017 for Los Angeles County. It's also amongst the top 5 most expensive homes sold in Los Angeles. The average price of a single family Bel Air home has risen 13 % to $5.3 million. According to Jonathan Miller of Miller Samuel Appraisers and Consultants, there are more listings at $100 million or more in the Los Angles area.
The couple's initial bid was $120 million, then the price came down to $90 million, and lastly $88 million. Their monthly mortgage payment of $252k is far less than what they were paying to rent their temporary Malibu home, which was $400,000. That's a 63% decrease every month!
The monumental mansion has 8 bedrooms, 11 bathrooms, 4 swimming pools, a basketball court, recording studio, a spa, staff quarters, limestone floors, and glass walled common areas that open on two sides to enjoy panoramic views. Outside extensive patios and terraces add an additional 10,000 square feet to their living space.It also has bullet proof windows and a detached 15 car garage. It sits in the most exclusive area in Bel Air, the Eat Gate community.