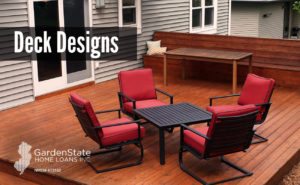 A deck is a special feature on a home that gives homeowners an outdoor space to entertain or relax. There's nothing like enjoying the beautiful outdoors with family and friends. However, the deck you may have now or are looking to add might not work for what you want it for. Remember, your deck is an extension of your home. Make sure you are not mixing a modern deck with your traditional-style home. Here are some great ideas to help revamp your deck or build the perfect one that is best for you!
Tiered Decks
Tiered decks can add architectural interest, create separate spaces for multiple purposes, and create a backyard oasis you never knew you could have. Each level of the deck can serve a different purpose. For example, the first layer attached to your home will be good for entertaining. The second layer can be for lounging, and the third can be a conversation area with a garden. Tiered decks also provide different vantage points if you have a spectacular view. You can unify the spaces with different color schemes for each tier.
Wrap Around Decks
Like tiered decks, wrap around decks allow you to have multiple spaces that serve different purposes. On one end you can have a gazebo and the other can overlook your backyard with a path leading down to it. Wrap around decks adds a lot more to your living space, as they are usually larger. They also provide a 360 view of your property allowing you to take in all the beauty.
Built-In Seating
Built-in seating is always a good idea as it allows you have more space and is great for guests. They're not only practical, but they look good as well! They add character to your deck and give it a personal touch, unlike store-bought furniture. You can add accessories to them like cushion and pillows to give it some flare as well. This can help tie in your color schemes if you're using a tiered deck too!
Railings
Railings are a focal point of any deck and make the deck unique. There are so many options you can choose from if you're looking to replace them on your old deck or looking to spice up that new one. Glass railings allow you to see all of those spectacular views you have. Glass is sophisticated and gives any deck some edge. Iron railings give your deck more of an industrial look. You can also always go with a timeless wood railing. If that's not exciting enough, you can always add some pizzazz to them by painting the top and base different colors than the supporting beams. Another option could be steel-wire railings, that also give an industrial but modern feel to any railing.
Invite the Light
If you're not looking to shield your deck from the sunlight, invite the light. Decks are always a good place to tan and have fun in the sun. When nighttime comes, you want to make sure your guests can still see where they're walking. Adding lighting to your deck ensures safety and the allows the party to continue after dark. This can be done by using solar markers on the stairs and adding light posts around the perimeter. Another option is tiki torches that give an island vibe to your backyard. String and rope lights are growing in popularity, as they promote a laid back atmosphere for your deck.
Rooftop Pergolas and Canopies
If you are looking for an easy way to add style to your deck, rooftop pergolas and canopies are a great option! Rooftop pergolas can be a cool feature on your deck because it is very versatile. There are so many things you could do with a pergola. You can add flowering vines interweaving along the beams, string lights draping from side to side, or even just paint it a bright exciting color! A canopy can provide full shade coverage and protection from the elements. Canopies are a great way to add a comfortable elegant feel to your deck.
A canopy can provide full shade coverage and protection from the elements. Canopies are a great way to add a comfortable elegant feel to your deck.
Fire Pits and Hot Tubs
Having a fire pit on your deck brings a certain warmth and coziness to your home. It brings people together on those chilly Autumn nights or those warm summer nights where you just want to make s'mores. Stacked stone or marble will look good on any deck space.
A hot tub is also a good idea for your deck. A hot tub can make the night after a long day at work feel like a relaxing staycation. It's also a great way to relax with friends.
No matter what deck or accessories you end up with, make sure the deck you choose is best for your home and your lifestyle!