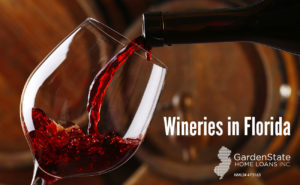 Florida is known for many things: great beaches, warm weather, Disney World, and so much more! Wine might not be one of them, it should be. Florida wine is a little different than most of your typical, generic wines. This is partially because Florida wineries use muscadine grapes instead of a more traditional grape like cabernet sauvignon grapes, another reason is Florida wineries are far from the classic wineries you'll find in other areas. Florida wineries like to be different and use things other than grapes to make wine, like peaches, black tea, and even avocados. So while the more conventional wine-enthusiasts may not appreciate these wineries, they're certainly worth a visit.
Lakeridge Winery and Vineyard in Clermont
Lakeridge might be the largest and busiest winery in Florida. Inside their lodge, Lakeridge offers tours and wine tastings. Lakeridge is different from most Florida wineries because it is more like a traditional winery. All 12 of the different wines they make are grape-based and a few of them are made from muscadines. The best part about this winery though? All the tours and tastings are free!
Schnebly Redland's Winery in Miami
With a waterfall, palm trees, and tiki huts, you might think you're in Hawaii when you're visiting Schnebly Redland's Winery. This place is probably the most unique winery in Florida. They do not make a single grape-based wine. Instead, Schnedbly Redland's Winery makes wine from mangos, lychees, avocados, and passion fruit. They have multiple wines for each fruit. The winery offers tastings daily.
The Gilded Grape Winery in Punta Gorda
The Gilded Grape Winery might be the most unique winery in Florida. The wine here is all made from fruit juice. The thing that makes this winery unique is that you can make your own wine! They let the visitors choose from an array of different grapes and fruits to make their own custom wine. However, the wine does take about two months to complete the fermenting process. A few of their most popular wines are the white merlot, the deep orange chocolate port, and the tangerine lemon wine.
Wine is perfect for having around the house or for gifts. Go out and get some of these delicious wines!