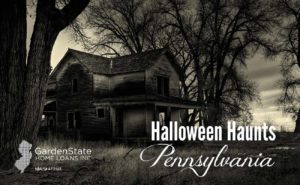 Here's your guide to Pennsylvania haunts for this Halloween season.
Terror Behind the Walls – Philadelphia, PA

Terror Behind the Walls takes place at an actual abandoned penitentiary, Eastern State Penitentiary. Featured on shows such as Ghost Hunters and Ghost Adventures, the prison is scary enough on its own. When you throw in the features of a haunted house and jump scare, it becomes downright terrifying. Terror Behind the Walls features six different attractions: The Lockdown, The Infirmary, Blood Yard, Quarantine (in 4D!), Machine Shop, and Breakout, with more than 200 performers. Join people from all around the country and world at this terrifying haunt.

Pennhurst Asylum – Spring City, PA

Pennhurst Asylum is located at the original State School and features four attractions. Choose between Pennhurst Asylum, the Dungeon of Lost Souls, the Tunnel of Terror, and the Ghost Hunt. In the Pennhurst Asylum, avoid the tortured inmates. Walk through a maze of experiments gone awry in the Dungeon of lost souls. Prepare yourself for gory decorations and jump scares in the Tunnel of Terror. Finally, guide yourself through the Mayflower Building, a haunted structure that has been featured on Ghost Hunters and Ghost Adventures.

Ghost Lake: 13 Levels of Fear – Conneaut Lake, PA

Ghost Lake features 13 different attractions, each one scarier than the next. Spend two hours going through each of the haunts, including a clown town, a demon house, and finishing off with a roller coaster. Ghost Lake is the scariest and longest running attraction around. Experience over 160 creatures striving to make your worst nightmares come true.


Hotel of Horror – Saylorsburg, PA

The Hotel of Horror features three different attractions: the Hotel of Horror, Altered Nightmares, and the Exhibition Macabre. Outside of the haunted houses is the iPas attraction and the Coffin Coach ride. At the Hotel of Horror, you will be exposed to the goriest of creatures. Altered Nightmares has you engrossed into the world of voodoo. Exhibition Macabre gives you a taste of the weird. During the iPas attraction, you'll have the chance to do the scaring. The Coffin Coach ride leaves you in the dark and confined, on a journey to the afterlife.

ScareHouse – Etna, PA

Located outside of Pittsburg, the ScareHouse is sure to frighten. The ScareHouse is famous for their attraction The Basement. Before you can even enter the attraction, attendees are required to sign a waiver and all attendees must be over 18. Be ready for anything when you enter!