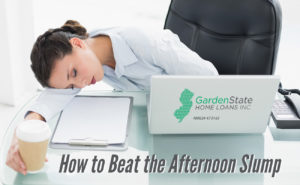 Everyone knows the feeling. Once midday hits and you're done with lunch, the grogginess sets in. Even if you feel like the day may never be over, you need to push through. Here are some tips and tricks to get you through that afternoon slump.
Head outside

Take a break from your computer and head outside and sit in the sun. Not only does this help to reset your chronological clock, but it also reduces the amount of melatonin in your body. Melatonin is a hormone that regulates sleep in the body. Additionally, stepping outside gives your body a boost of vitamin D.

Clean your desk and clear out your email box

These are relatively mindless tasks that don't require a lot of concentration. These will leave you feeling accomplished as you have finished a visible task as well as reducing clutter.

Use peppermint oil

Peppermint is known as an energy-enhancing scent. Put a drop or two of peppermint oil in your palm and rub your hands all over your face, being careful to avoid your eyes.

Stretch

Wake up your muscles (and yourself) be doing a quick stretching session. Roll your shoulders back and forth, timing each roll with a deep breath.

Chew some spicy gum

Gums with strong minty flavors are stimulating. Additionally, the act of chewing stimulates your brain and keeps it from becoming lethargic. Chewing gum also stimulates salvia which clears out bacteria that can cause cavities and gum disease.

Hydrate

It may be tempting to reach for a soda or energy drink to try and get a boost of energy, but that won't work if you're already parched. Research shows that slight dehydration can lead to sleepiness. Instead, swap that caffeine for some water.

Consider a bit of dark chocolate

While this is not an excuse to overindulge, dark chocolate does have some unique characteristics. Unlike milk chocolate, dark chocolate is a healthy (or healthier) food, closer to nuts than it is to sweets. It has high levels of healthy fats and antioxidants. Additionally, it has fiber and magnesium (plus a little hint of caffeine). One square should do the trick to get you out of your funk.

Swap energy-sapping carbs for energizing protein

Carbohydrates make the body sleepy. Instead of loading up on bread, swap out the carbs for proteins that will give your body energy. However, that doesn't mean you have to give up your favorite lunch! For example, having a tuna salad without the bread is a better choice than a tuna salad sandwich.