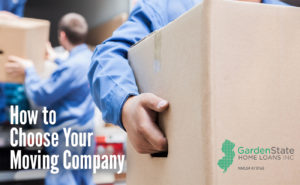 So you've made this decision to move. You've picked the house and now all that's left is to pack the boxes and find the perfect moving company. Here's how to ensure you pick the perfect company for you.
Get recommendations. Ask your family, friends, co-workers about who they have worked with. You can even do some research yourself and look online for companies in your area.
Do an initial screening. When you have your list of movers, do an online background check. Call or visit the Better Business Bureau website. You can also call or email the American Moving and Storage Association (AMSA) to see if the company is a member. AMSA is an organization that companies join voluntarily that sets tariffs and requires its members to participate in its arbitration program.
Narrow down your potential companies to three or four. Once you have a list of companies, call and ask for an in-person estimate. Don't rely on an estimate from a company until they have a full understanding of what your situation is. If you are moving to another state, ask if the company will provide you a written binding estimate or a binding not-to-exceed estimate. These will put a cap on what you will pay for the move. Estimates for interstate moves vary depending on weight of items you are moving and distance. In-state move estimates vary based on states.
Show everything. When an estimator comes to your home, show him everything that you want moved. Once moving day comes, the foreman can challenge the original estimate if he believes you have significantly more stuff than calculated in the estimate. Make sure that the estimator knows the conditions of the new home, such as the number of stairs or how far the curb is from the nearest door. You should also be asking the estimator questions. By the time the estimator leaves, you should know:

The company's full name/any other names it does business under
How long the company has been in business for (ideally 10 or more years)
The company's address, phone number, email, and website
The name and contact information of a reference
Their U.S. Department of Transportation (USDOT) and motor carrier license numbers
The USDOT booklet called "Your Rights and Responsibilities When You Move" (federally required when moving out of state).

Review the estimates. Interstate move estimates should clearly describe the type and quality of the goods you're shipping, the distance to your new home, when your things will be packed and delivered, and supplies the company will be providing. For an in-state move, the estimate should include hourly rates and any additional costs you may incur, such as for supplies, tolls, and driving time.
Compare the bids. Be wary of any bid that is much lower than the others. If one company is more expensive than the others, check to see where the extra costs are coming from. Don't be afraid to call up the company and ask any questions that you may have.
Select your mover! Confirm all the dates and details.
It's moving day! Get a written copy of your mover's inventory list. Provide movers with specific directions to your new home and make sure that you have a number to reach the movers throughout the day.