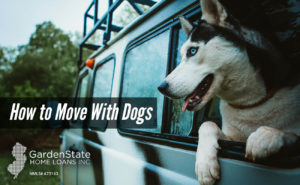 Moving is a stressful process to begin with. Add in dogs, and the stress levels can go through the roof, for you and your dog. Here's how to make the transition easier on you and your dog, from leaving your home, through travel, and finally settling into your new home.
Finding a new home
Find nearby dog-friendly locations
Do you currently take your dog to the dog park every Saturday? Is there a dog-friendly restaurant that you frequent? Make sure that your new home is in an area that has these things as well. Maintaining similar routines will help your pup settle into the new home faster.
Consider your dog's living quarters
When considering square footage, make sure your new home has enough room for your dog. You'll need space for a dog bed, their food and water bowl, and, if needed, a crate.
Check out the neighborhood
When you're getting to the point that you are seriously considering a certain home, check out what pets the other neighbors have. Take a walk with your dog around the neighborhood. Try to take note of anything that may affect your daily routines, such as outdoor cats or barking dogs.
Leaving your old home
Walk more
Exercising helps to keep energy down. A sleepy puppy is a less destructive puppy. Take your dogs on more walks or bring them to the dog park more often to make packing easier or to make it easier to the leave the home fast for a showing.
Have a game plan
Most likely, your dog is allowed in any room of your house. However, to make moving a little easier, consider restricting off an area of your home. This can be done with a dog gate or by simply closing a door. In this area, keep any already packed boxes and bags. This way, your dog can't get into them.
Never leave your dog loose during a showing
You never know who's coming to see your home. The person may be allergic to dogs or scared of them. Never risk making a potential buyer uncomfortable by having your dog roam around your house. Try to take your dog for a walk during a scheduled showing or bring them to a friend's or family member's home. If you can't get the dog out of the house with you, keep your dog in their crate.
Packing and unpacking
Keep calm
Moving is stressful, but it is especially so for your dog. Dogs feed off our energy, so if we are stressed, so are they. Try to reduce your dog's stress and fear about all the major changes by maintaining their routines as much as possible.
Save the dog's room for last
If your dog has a room that they hang out in the most, pack that room last. This way, your dog will have somewhere to escape if the stress gets to be too much.
Get your dog out for moving day
Moving day includes a lot of unfamiliar sights, sounds, and people. This can be overwhelming for your pup. Try to get your dog out of the house for moving day. Bring them to the dog park, or to a friend's or family member's house. If you can't find anyone, ask your vet if they offer boarding for the day. If all else fails, a crate can help keep them safe.
Traveling
Your car ride will be longer
If you normally drive as many hours as possible without stopping, this won't be possible when traveling with a dog. A dog will need to stop every four to six hours, to stretch out their legs and take bathroom breaks. If you will have to stay the night somewhere, plan this out in advance. It will be harder to find a pet-friendly place on the road than it would be to make the accommodations ahead of time.
Larger dogs cannot travel in-cabin
If you are traveling by air to get to your new home, there are some restrictions. If your dog can fit underneath the plane seat, it is likely that they can fly with you. However, if you have a larger dog, they will have to go with cargo. Many dogs fly safely in cargo. There is a larger risk for your dog posed by the greater temperature variations in that area.
Your new home
Establish your new routine quickly
Try to stay as close to your previous routine as possible. If you are moving to a new time zone, jump into your routine as if it didn't exist. If you normally walked your dog every morning at 7 o'clock, keep the time the same. Creating a new routine quickly will help your dog settle in faster.
Update your dog tags
An unfamiliar location can increase your dog's chances of running away. Get your new information on your dog as soon as possible just in case your dog runs away and gets lost.
Find a vet
Meet up with a new vet before an emergency arises. Getting your dog to know your new vet in a more relaxed situation will help them be calmer in the arms of someone new. While at the vet, find out if there are any region-specific vaccines your dog will need to have.