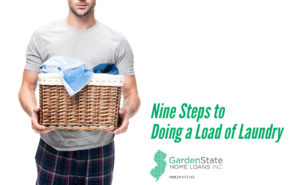 Everybody has to face doing their laundry by themselves for the first time. Here's a step by step guide on how to do your laundry.
Step One: Read the Label
Be sure to check the care labels on your garments and linens. Care labels let you know whether an item can be machine washed. Each fabric type has different properties that react differently to heat, water, and cleaning solvents. Separate any clothes that are labeled "wash separately" or "hand wash" into different piles. If an item says, "dry clean only", believe it! Place it in a separate pile and bring it to the dry cleaners later.
Step Two: Sort
Start your sorting process by sorting by color. Whites and lights colors should go into one pile and deep colored clothes should go in another. Sort them further by fabric type. Separate clothing from towels and sheets. Separate t-shirts and jeans from lighter weight items such as blouses or other dressier items. Washing items by fabric types allow you to use different water temperatures and drying cycles. If you do not have enough items for a full washer load or you are in a hurry, you can wash all items together. However, if you are doing this, be sure to choose a wash cycle to fit the most delicate items in the load.
Step Three: Choose a Detergent
Choose an all-purpose detergent. Read the directions to determine how much of the detergent you should use. If you notice that clothes have stains, pre-treat them before throwing them in a washer with a little bit of the detergent or a stain remover. Make sure to add the detergent to the washer drum or dispenser before loading. This prevents the clothes from getting a sticky residue.
Step Four: Pick a Washer Water Temperature and Cycle
Washing in cold water will usually serve your needs and prevent most laundry disasters, as long as your clothing is not heavily stained or extremely dirty. The main exception being cotton underwear and bed sheets, that need to be in hot water to remove body oil. Bed linens and towels should be washed at the highest recommended temperature at least every other wash to help sanitize them. If you are concerned about what water temperature or cycle to use, check the care label for cleaning information.
Step Five: One Final Check
Check over your clothes once more. Make sure there aren't any stains. If there are, treat them. Empty your pockets and remove any belts or jewelry attached to the clothing.
Step Six: Load the Washer
Load items into the washer one at a time, being sure not to cram the washer too full. The clothes need room to move in the water and cramming items into washer inhibits this. To protect certain fabrics, turn knitted items, textured fabric, and darker colors inside out.
Step Seven: Unload the Washer
Whenever the cycle is finished, remove wet laundry from the washer as soon as possible to prevent wrinkles and mildew. If any items need to be air dried, lay the item flat or hang them up. Otherwise, place the items into the dryer.
Step Eight: Load the Dryer
If you did not separate loads by fabric type when washing, do so when placing items into the dryer. Dry all lightweight items together and all heavy fabric items together. This will help to protect your clothing and prevent your clothes from shrinking.
Step Nine: Hang or Fold
As soon as your dryer cycle is finished, hang or hold each piece to prevent wrinkles.