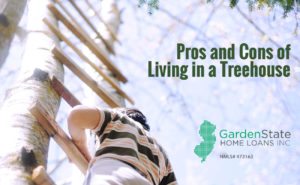 As children, we all dreamed of having our very own treehouse, and the lucky ones had their dreams fulfilled. As we got older this dream has waned for some, but many people haven't given up on it. Throughout the years, living in a tree-house has become a popular choice for many homeowners. Today, some of the most sought out hotels and Airbnb's are treehouses. In fact, the most popular listing on the entirety of Airbnb is a treehouse!
Some see living in a treehouse as a way to become closer to nature and others see it as a way to get back in touch with their childhood. Although living in a treehouse may be an attractive idea, it has its pros and cons:
PROS
Environmentalism
Having a tree-house is a fun, eco-friendly alternative to a traditional home. Many tree-houses are built using salvaged or recycled materials and building on a tree saves it from being torn down. Additionally, treehouses can be easily upgraded with solar panels and other forms of renewable energy to add to your ease of living.
Privacy
The height of a tree-house can grant you great privacy from your neighbors. The branches can give extra concealment for you and cover your windows.
Lifestyle
There's something about a treehouse that gives off a sense of tranquility. Maybe it's the sense of being close to nature or the movements of the tree in the wind, it's a relaxing environment that's easy to get lost in. Living in a treehouse helps you achieve a laid-back lifestyle, letting you lay back and enjoy the view.
CONS
Electricity
Unlike traditional homes, treehouses cannot be easily hooked up to electric power lines. Additionally, because of safety concerns, running wires through a tree might not be the best idea. You can consider using alternative energy sources, like solar or wind-power, but these options can be pricey.
Plumbing
Plumbing is another amenity that is difficult to work into a tree-house. The height of trees impedes water pressure and alters the effectiveness of pipes, making water fight a literal uphill battle to reach your home. During the winter months, your pipes could be at an even greater risk.
Weather Conditions
Living in a tree can make you especially susceptible to adverse weather conditions. Most treehouses are posted on stilts, making them not the most stable option. Sure, trees themselves can be pretty sturdy, but even they can be uprooted in an awful storm.