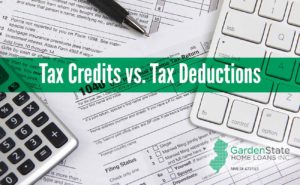 Tax credits and tax deductions can help to reduce your overall income tax liability. The basic difference between a credit and a deduction is that a credit is a dollar for dollar reduction whereas a deduction lowers your taxable income by using a percentage.
Tax Credit
Tax credits help to reduce your liability dollar for dollar, meaning that a $1000 credit saves you $1000 in taxes. However, tax credits cannot reduce your income tax liability to less than zero. Most tax credits are non-refundable. In a year, any excess amount expires. Refundable tax credits are available to help grow your tax credit.
There are many different tax credits, each having specific qualification guidelines to be able to claim them. These qualifications include categories such as age, filing status, employment, and education. It is important to note that just because you qualify for one tax credit does not mean you qualify for another. Since a credit helps to reduce the money you pay in income tax, it is important that all the information you provide is accurate. If you're unsure whether you qualify for a type of tax credit, ask a professional before claiming it.
Tax credits are less common than deductions. Credits are available for cases such as adopting a child, buying a first home, home office expenses and caring for an elderly parent. There are also businesses credits that you may be able to consider.
Tax Deductions
Tax deductions lower your taxable income by using a percentage of your marginal tax bracket, meaning that if you are in the 25% tax bracket, a $1000 deduction saves you $250 in taxes. Standard and itemized deductions are the two main types of tax deductions. A taxpayer must use one type of deduction, but cannot use both.
Standard Deduction
A standard deduction is the dollar amount that reduces your taxable income, typically adjusted up each year for inflation. It's based on your filing status and then subtracted from your adjusted gross income (AGI).
Itemized Deductions
A taxpayer usually chooses an itemized deduction when the benefits outweigh the possible benefits of a standard deduction.
Some itemized deductions are based on a minimum, or floor, amount. This means that you can only deduct amounts that exceed that floor. Additionally, there are income limitations for taxpayers who use itemized deductions. This means if your AGI exceeds a certain level, you are not permitted a portion of itemized deductions.
If you decide to go the itemized deductions route, it is important to keep a record of what you choose to deduct. Include documentation for medical expenses, mortgage interest, property taxes, charitable donations, and any non-business state income taxes.