There have been a lot of calls and emails regarding the Federal Tax Cut and what the markets are doing. We understand that the topic can be confusing, which is why we tried to break it down into simpler terms. Here's what you need to know:
First things first, Mortgage Rates are NOT 0%.
Yes, the Federal Government cut the Federal Funds Rate, but that applies to loans with a term of up to one day. This does not apply to mortgage loans, because, as you know, your mortgage loan term is much (much) longer than 1 day. The Federal Funds Rate is an entirely different animal than Mortgage Rates. Think of it as if you were comparing apples to oranges.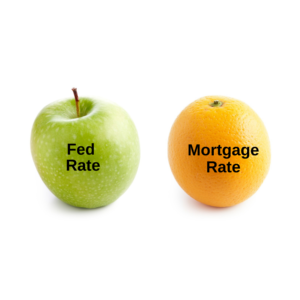 Secondly, the Fed announced new mortgage bond buying as a part of its QE package. This will help restore the exchange between 10 year Treasury yields and mortgage rates, but it WILL NOT immediately change the space between them! While mortgage rates do take cues from the broader bond market, they move for many reasons, which is why this week's mortgage rates jumped at such a swift pace.
What will happen next will depend on the bond market. Rates will definitely fluctuate day to day, but through it all will still be among the LOWEST mortgage rates have ever been in history. What we can say for certain is that they will not drop to .50% or 0% ever. Sorry to be the bearer of bad news!
If you want to hear a bit more about the Federal Tax Cut, the state of real estate and how to prepare, watch the below video clip from our EVP Matt Boyce.