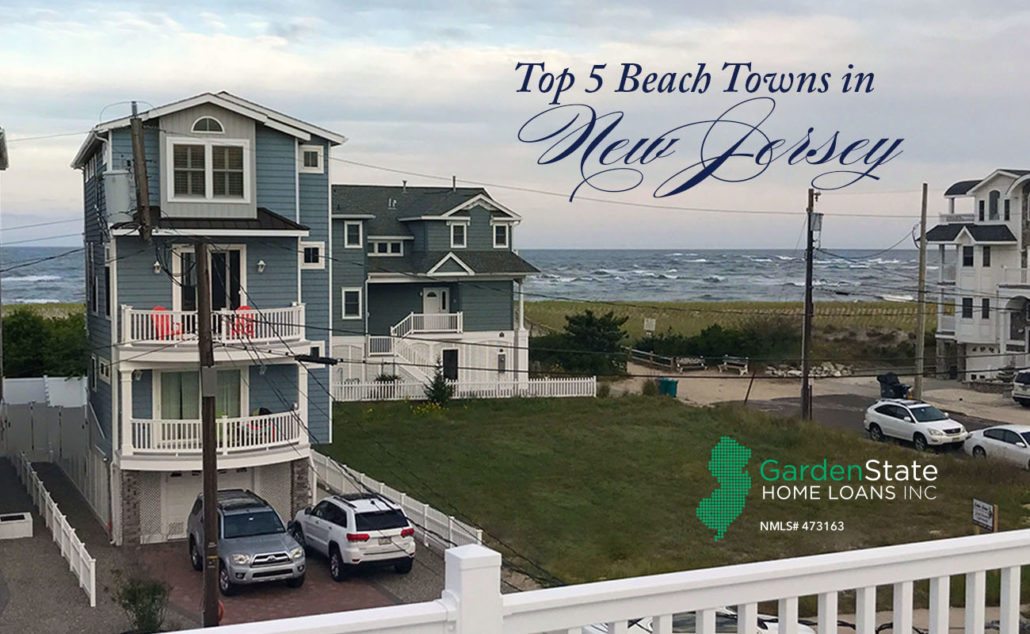 Do you love going to the beach all day long, tanning and swimming in the water? Or are you more of a boardwalk person, attracted to the wide variety of rides, games, and food? How about night life and going out to bars, clubs, and nice restaurants? All of the above? Then the Jersey Shore is the place to you, and below we've listed what we consider the five best beach towns in NJ.
These beach towns provide vibrant oceans, extravagant boardwalks, fancy (and tasty!) restaurants, and an exciting nightlife, making them great vacation spots for just about anyone. Whether you are looking to buy or rent a home, or even just visit for a weekend, the Jersey shore is the place for you.
The Five Best Beach Towns in NJ:
5. Seaside Heights
You may have heard of Seaside Heights from the infamous MTV series, "The Jersey Shore". But do not let this discourage you, this town was voted one of New Jersey's top ten beaches. Adding to that, the Seaside Heights Boardwalk provides plenty of entertainment not only children, but also for fun-seeking adults. This massive boardwalk has a water park, arcades, crazy rides, fun activities, and more restaurants than you could count. Seaside also features great nightlife, with big time bars and clubs such as Bamboo Bar and Karma.
4. Asbury Park
Asbury Park has had a long and somewhat shaky past. It used to have a bad reputation, but over the past few years the town has really shaped itself up. Now, it is a great town with beautiful beaches and a vibrant downtown area full of restaurants and shops. There are long, peaceful beaches and a boardwalk too, which has even more restaurants and shops. The night life in Asbury is also great. Club and bar scenes like Porta and Johnny Macs make Asbury a great spot for night life. The Stone Pony (where Bruce Springsteen used to perform), is a live music venue that has music every night.
3. Ocean City
Ocean City, voted best beach in New Jersey multiple times, is a great getaway spot, especially for families. If you go to Ocean City one thing is for sure, you will not run out of things to do. With 8 miles of beaches, two of which is covered with a boardwalk, Ocean City has plenty to offer. There are great amusement parks such as Playland's Castaway Grove for all ages to enjoy. There are waterparks and mini-golf courses that can entertain anyone. Its only downside is that it is a dry town, so the night life leaves a little to be desired. But, do not let that deter you. Ocean City is a great family beach town.
2. Long Beach Island
Commonly referred to as "LBI," Long Beach Island is one of the top beach towns in new jersey and, arguably, the nation. This 18-mile strip beach town has a lot to offer. There are countless surf spots at LBI, and most of the people who live there pick it up as a fun hobby. In fact, the first ever Ron John Surf Shop was built here. There is also a great amusement park and well known water park called "Thundering Surf Water Park" nearby. LBI's "Beach Haven" has plenty of bars, restaurants, shops, and clubs to entertain people at night, and is a hot spot for families and young adults.
1. Wildwood
After careful consideration, Wildwood takes the number one spot. Wildwood takes this spot because there is so much to do for any age-group. Wildwood has renowned beaches, and has unique hotels in the Wildwood Crest area. If you are feeling ambitious, there are opportunities for parasailing, jet skiing, snorkeling, and deep-sea diving. There are multiple water parks to go to, and a historic boardwalk to traverse after some water-park fun. This huge boardwalk has over a hundred attractions, with smaller rides and mini games for kids and gigantic roller coasters and adrenaline-fueling rides for daredevils. There has always been a great nightlife in Wildwood, with its many bars and clubs. This have-it-all boardwalk is one of the best sources of entertainment in the Garden State.
The Jersey Shore has one of the biggest varieties of beach towns in the U.S. Each town has its own unique culture and signature vibe. Lots of towns can be considered among the best beach towns in NJ, but if you're a beach person you've got to give these beach towns a whirl. You certainly won't regret it.
Reach out to us today if you're considering a move to our great state; we can tell you much more about life here in Jersey!