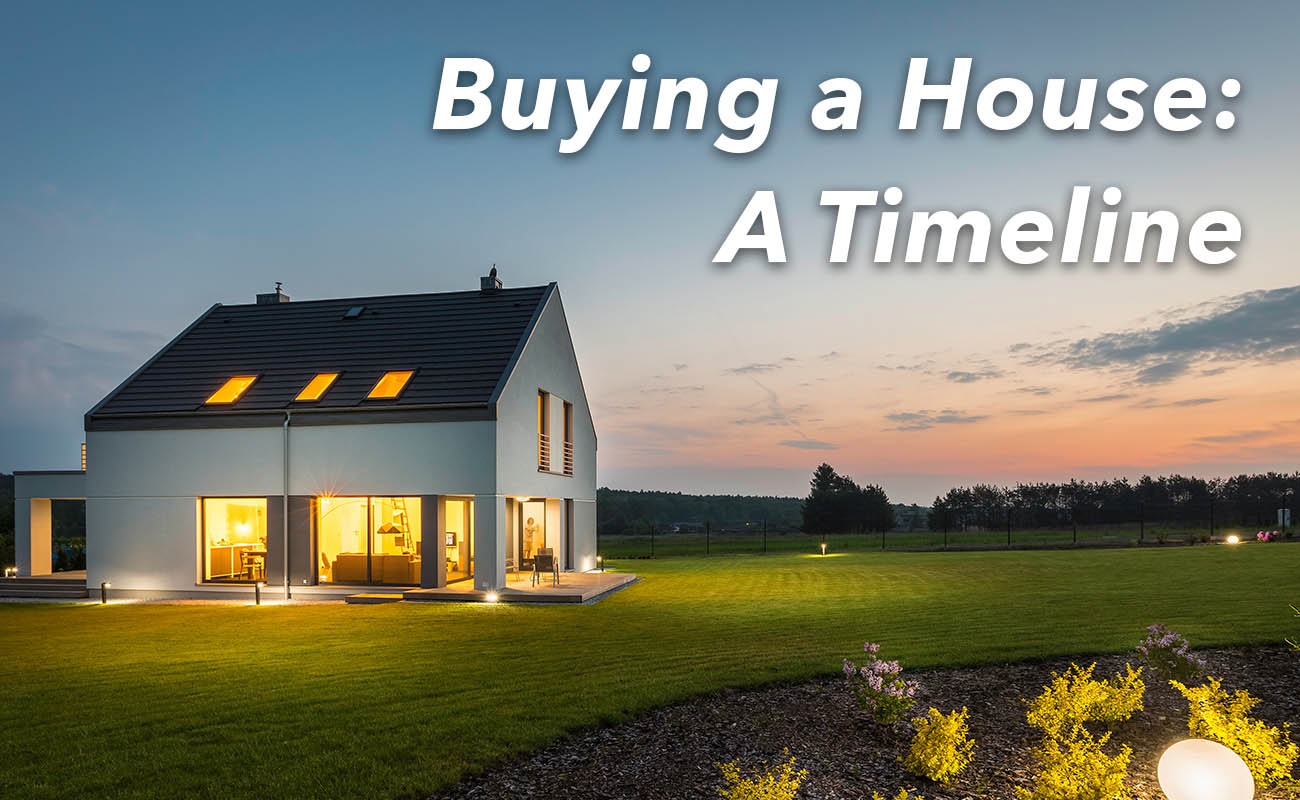 Buying a home takes preparation. Here's your know-it-all timeline to help you in the buying process.
Step One: Understand What You Can Afford
Check your credit. A few months before you start looking for a home loan, get a copy of your credit score. Make sure that it is accurate. In addition, getting your credit report early allows you to correct any mistakes you may find.
Understand your finances. Understanding your finances is one of the most important parts of the home buying process. Know your income, debts, savings, and monthly expenditures. This helps you to understand what you are able to afford. Make sure to factor in costs for the down payment and closing.
Step Two: Find the Right Home
What type of home do you want? Determine what type of home is best for your lifestyle and budget. Are you comfortable with the maintenance and expenses that can come with single-family living or would you prefer the lower maintenance lifestyle of a condominium? To learn more about types of homes and determine what kind you may want to buy, read our article about the different types of homes.
Where do you want to live? Do you want to live in the city, suburbs, or the country? How far are you willing to drive? Where do your family and friends live? Do you want to live close to them?
Step Three: Make a Team
Find a real estate agent. Find an agent who you are comfortable with, both with their experience and on a personal level. If you do not know any real estate agents, ask friends or family for references.
Find a lender. Find a lender who is trustworthy and offers competitive terms. If you don't have a lender, reach out to friends and family for references. Make sure to call several lenders to find the best rates and terms available to you.
Step Four: Finance Your Purchase
Step Five: Start House Hunting
Now that you know what you can afford, you can start looking for a home. Getting a pre-approval can help you determine what price ranges you should be looking at. That way, you will not be looking at houses that are too expensive for you to buy!
Step Six: Make An Offer
Make your offer. Your real estate agent will help you determine a fair price for the home, based on comparable homes in the neighborhood. After an offer is determined, your agent will send an offer letter to the seller's agent that will include a deadline to respond, which is typically one to two days.
Negotiate the offer. It is possible that the seller may counter your offer. Counter offers usually include asking for more money or for an adjustment on the closing date. Your agent can help to negotiate and get the most favorable terms for you.
Sign the purchase agreement. Once you and the seller agree on the purchase price, each party will sign the purchase agreement. Once the purchase agreement is signed, you are in a binding contract with the seller.
Secure funding. You'll need to provide your lender with the purchase agreement. Your lender will help finalize your loan application process to get your final mortgage approval.
Step Seven: Inspect And Appraise The Home
Conduct a home inspection. A home inspection will determine the condition of the structure of the home and report back on any significant repairs that need to be made. To learn more about what might be found for a home inspection or what should be looked at, read our article about home inspections.
Conduct a home appraisal. Hire a professional appraiser to visit the home to determine the value of the home. The value is based on the home's condition and the comparable homes in the homes in the neighborhood.
Step Eight: Closing
Once your loan is approved, your lender will schedule the closing. The closing is the final step to homeownership. It involves all parties signing final documents and the legal transfer of the property and keys.