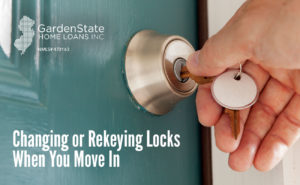 Changing or rekeying locks might not be the first thing on your mind when moving into a new place. In reality, this should be the first thing you do before moving in. It's likely there are other copies of the previously-used key. Changing the locks will protect you if any of the copies accidentally fall into the wrong hands. Regardless if you rent, are a part of an association, or you own your home, be sure that you and your family are the only ones in possession of keys to the property.
If you are renting you'll want to talk to your landlord before changing the locks, but most of the time it's their responsibility to change locks or re-key between tenants. If you're a part of a homeowners association, speak with a representative to find out what your options are. Most likely they'll rekey to keep uniformity within the community. The only time you don't need permission to change the locks is when you own the home – then it's your responsibility to complete the job.
Rekeying: An Overview
You may be wondering what the difference is between replacing the locks and re-keying them. Rekeying is the process of reforming the lock without actually replacing the lock. This is a less expensive option as opposed to replacing the entire lock, which can sometimes be costly.
What is rekeying?
The term rekeying refers to the change of tumblers found in a lock cylinder to prevent prior keys from working. It's a re-coding of pre-existing locks to accept new key sets.
The importance of re-keying:
Rekeying a lock is a security measure taken to ensure your home is secure. You never know how many people may have keys to your home. By rekeying you'll be certain that no one else has access to your home besides you and your family.
Even when moving into your new home you should re-key. The person who lived there before you might have made extra copies of the keys, which you didn't know about. A lot of robberies are a result of homeowners or tenants that lived in your space prior to you.
Benefits of re-keying:
Faster than replacing
Just as secure as replacing
Cost-effective
Replacing Your Locks: An Overview
Under certain circumstances, locks need to be replaced. Locks wear past the point of being able to be re-keyed. It's never a bad idea to upgrade your locks when considering what's being protected inside the house.
When to call a locksmith
Before you call, you'll want to make sure of a few things:
How many locks are in the home
Brand of locks
Key holes
Preferences to the security level of the lock.
The appropriate time to call a locksmith is a day after closing, just to be safe.
The importance of replacing your locks
Replacing old locks is just as important as rekeying. There's nothing wrong with changing an entire lock to ensure the job is done right. If the lock doesn't look secure or looks rusty, replacing it might be the better option. You can't be too sure of the integrity of the locks, so picking the locks of your choice will work to heighten security measures.
Just like rekeying, you don't know who has a copy of the old key. Buying a brand new lock changes that. Though it's more expensive than rekeying, it may be worth it for your peace of mind.
Benefits of replacing your locks
Maximize Security
New Hardware
Preference to what you want
Entirely different key set
Whether it's replacing or re-keying, changing the locks after moving into a new property is essential. It will ensure your safety, privacy, and security of your house. This will give your home's security a fresh start, and you'll get some peace of mind.