Thursday, August 10th, started off like a normal work day at Garden State Home Loans. Then it turned into a fun and enjoyable team building evening. The fun started at 4 pm with refreshments at the office. Two hours later, the party continued at the Amazing Escape Room in Cherry Hill, New Jersey.
Nothing says team building like being locked in a room for an hour with your co-workers! An escape room requires active participation and team work. The high pressure environment encourages coworkers to rely on one another to successfully escape their room.
Throughout the escape room experience, different people stepped up to lead, and everyone worked together to find solutions to the puzzles.
While only one team successfully escaped their room, all teams collaborated and had a great time interacting outside of work.
Team 1: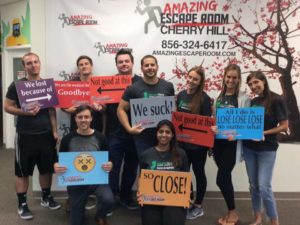 Team 1 entered Ehrliches dimly lit home . They tried to help Ehlrich hold back the phantom of his uncle. However, they unfortunately could not provide assistance and were doomed since the moment they stepped foot in the home.
Team 2: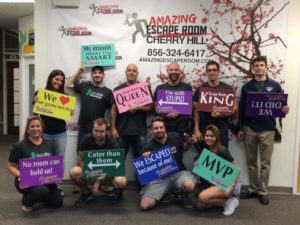 Team 2, a group of aspiring magicians, were trapped into the Mysterious Malini's private parlor, after discovering he was a murderer. Given only 60 minutes to escape before his show ending, Team 2 managed to escape with 7 minutes remaining!
Team 3: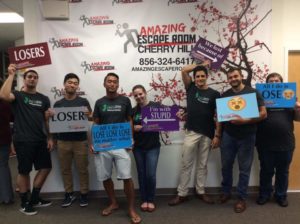 A band of thieves, best known as Team 3, entered the Art Museum of Cherry Hill in an effort to steal a rare and priceless item, The Star Diamond Broach. Team 3 attempted to carefully and quickly retrieve the diamond, however were short on time. The thieves were caught by the returning security system.
Team 4: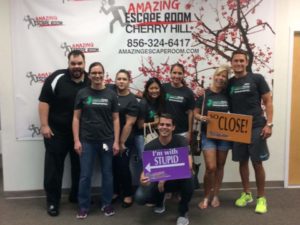 Because the Captain of their ship thought they were stealing gold, he threw them all in the hold. With trying to find the actual thief and the stolen gold, Team 4 unfortunately were unable to escape and landed in Davey Jones's locker.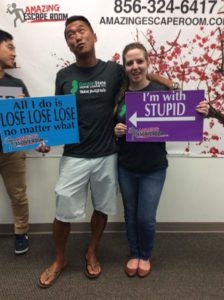 Although only one team successfully escaped their room, everyone was still in good spirits. The Garden State Home Loans Team Building event was a fun time for all and is definitely one for the books!
"Coming together is a beginning. Keeping together is progress. Working together is success."
~ Henry Ford