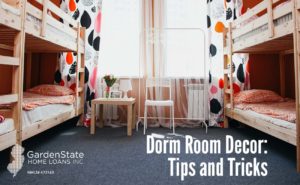 It's that time of year again, time to go back to school. Whether your move-in day is still approaching or you have already gotten settled, it's never too late for a dorm room makeover! You can put your new room together in a style that reflects your personality and makes you feel right at home.
Sometimes it can be challenging to find the right dorm room decor, but with these tips and tricks, you can decorate your dorm room with confidence that you'll be living in style this school year.
Go Bold With Color
Most dorms are just white and plain, so why not go bold with color to bring some life into your room. Put up colorful paintings, posters, or pictures on your walls and door. Tapestries are also a great way to bring some excitement into your room. They come in a variety of colors and prints. However, be sure to read your school's guidelines about what you are able to hang on the walls before you go on a shopping spree! Some schools may not allow you to hang tapestries or other like items.
The walls aren't the only thing in your dorm that could use a bit of color. Bringing in a colorful bedspread and pillows is a great way to add color to your room. You can even connect with your roomie before move-in day if you want coordinate colors! Bring the color to the floor with a small area carpet. Many dorm buildings use a linoleum or wood flooring. The rug would not only bring some color into your room but also protect your feet during those cold winter months!
Desk Necessities
Your desk is the perfect place to study and do homework and keeping it organized is essential. Use folders, drawer organizers, and pencil holders to keep your area tidy and easy to navigate. A desk lamp can go a long way towards brightening up your work area, providing extra lighting for all those late-night study sessions. But, a desk doesn't need to be just a place of study. Decorate it with pictures of friends and family, your favorite books, and inspirational quotes to make the space more comfortable and inviting.
Bulletin Board(s)
A bulletin board is a great way to personalize your room. Decorate it with pictures of friends from home, family, your favorite quotes…anything your heart desires can find its way onto a bulletin board. Additionally, a bulletin board doesn't just need to be decoration. Try creating an informational bulletin board. Put a to-do list and calendar to help keep you on-task once the semester really starts picking up.
No Nails, No Problem
As we mentioned before, make sure to look at your college's guidelines before your move-in day. Many dorms do not allow you to nail anything to the wall because doing so may cause unnecessary and costly damages. But never fear! There are many different ways to hang up all those decorations you are bringing with you. Double-sided tape is great for hanging up bulletin boards or posters. The college person's dorm room savior, the command hook, is perfect for any of your decor needs. Coming in a variety of sizes and shapes, command hooks allow ease in decorating in any dorm room setting.
Curtains
Using a dowel rod is a great solution to the "no nails" policy many college dorms have. Easily hang the rod with command strips or some other form of adhesive and use your fabric of choice as your curtain. While traditional drapes may be expensive, there are many alternatives. Try using materials such as scarves, sheet or tapestries to add some flair to your room. Secure your "curtains" with safety pins or clear tape.