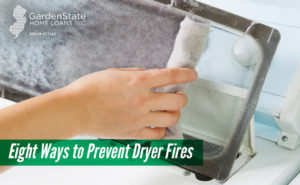 Clothes dryers can be found in approximately 81.5 million homes throughout the United States. While they are a major convenience, if they are not properly cared for, they can cause fires.
What causes dryer fires?
Most dryer fires are caused by extra lint. Extra lint builds up when the dryer is not cleaned on a regular basis. In addition to keeping your dryer clean, make sure that there is proper air flow around the unit. If there is not proper air flow, the heat can cause combustion.
How can you prevent dryer fires?
1. Keep your vents clean
Clean your vents and your entire dryer on a regular basis. Don't assume that the vent will catch all the lint from your laundry loads. Lint can build up inside of the dryer or other heating elements.
2. Clean the lint screen or filter before or after drying
Make sure to clean the lint screen before or after doing a load of laundry. If after a cycle your clothes are still damp, this could be a sign that the screen or exhaust duct is blocked.
3. Keep the area around the dryer clean
In the event your dryer has a fire, any items close to the dryer will fuel the flames. Keep the area around the dryer clear to prevent the fire from getting larger than necessary.
4. Ensure you have a suitable outlet
An outlet that doesn't have enough power to withstand a dryer will blow a fuse. Overloaded electrical outlets can spark fires.
5. Do not leave your dryer unattended
It is not safe to leave your dryer unattended. If there is an issue, you most likely be able to hear the problem before it can manifest into a fire. Make sure that you will be able to stay home for the entirety of the drying cycle.
6. Clean your dryer exhaust and filters
Look outside the dryer vent to make sure there is air flow surrounding it. If you are unable to see air escaping while the dryer is running, disconnect the vent and exhaust while cleaning them. Make sure that you reconnect everything before doing your next load of laundry!
7. Use a rigid or corrugated semi-rigid metal duct
Rigid or corrugated semi-rigid metal ducts help to prevent fires in the dryer's ductwork. If you have a plastic or foil accordion-type duct, consider replacing it.
8. What happens if your dryer catches on fire?
The only way to protect yourself is to be prepared. In the case that your dryer does catch on fire, call 911 immediately.