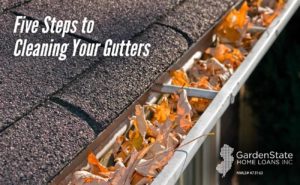 Cleaning gutters can be a dirty business, but it's a necessary process. You should clean your gutters at least once a year – twice if you have overhanging trees. Additionally, make sure to clean out your gutters after big storms. When cleaning out your gutters, it is best to wear a long sleeve shirt and rubber gloves.
Pre-Clean Gutters
First things first, you need to clean up all the gunk, paying extra attention to the downspout. A clogged downspout means water won't drain properly, which leads to mildew, mud, and sagging gutters and can cause water damage to your home. Once you clean up the gutters, you can use the decomposed leaves for mulch or for composting!
Check for Leaks
Once you have cleaned out the leaves, check for any leaks. Look for holes in the gutters or any cracked caulking in the seams. A good way to ensure you don't have any leaks is to run water from a hose into the gutter and look for water falling where it shouldn't.
Check Gutter Spikes
A gutter spike is a giant nail that goes into the front of the gutter, passes through to the rear of the gutter, and goes into the fascia and rafter end. Check to make sure that all spikes are firmly in place. If not, invest in new spikes to ensure that the gutters remain fastened in place.
Check Rivets
Check the rivets on the downspout. Oftentimes, they will become loose or will have fallen out. To re-secure or replace, use a rivet gun.
Clean Gutter with a Pressure Washer
Once you're finished with the above steps, you can get down to the nitty-gritty of cleaning gutters. Use a power washer to clean the gutters, being careful to follow the directions on the washer. If you don't own a power washer, you can rent one from your local hardware store! The power wash shouldn't damage the gutter provided you've secured it with screws or new spikes.