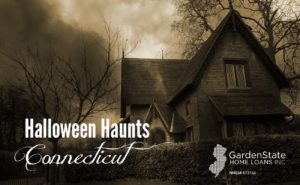 Though Connecticut may be small, there is no shortage of good scares. Here are five haunted hotspots for a Halloween adventure.
Fright Haven – Stratford, CT

Connecticut's largest indoor haunted attraction is Fright Haven. It covers almost 20,000 square feet! This haunt is the perfect old-school experience. Walk through the Victorian haunted house "Dark Manor" and encounter ghosts, vampires, and zombies. Watch out! In the pitch-black haunt, you may just find snakes, insects, rats, clowns, floating masks, and much more!

Legends of Fear – Shelton, CT

Choose between two attractions to spend 90 minutes in fear. The Melon Head Revenge Trail stretches over half a mile through haunted woods. The trail features deformed and demented monsters ready to play out terrifying scenes. This attraction does not permit children under 12. The Signature Haunted Hayride is 1.5 miles of fun. 75 creatures await you on this spine-chilling adventure.

The Haunted Graveyard – Bristol, CT

The Haunted Graveyard is a 45-minute walk, that takes you through 14 different themed houses. Don't expect the same haunt as every year is different! 200 ghouls, including banshees, vampires, demons, and lost souls, are waiting for you.

Trail of Terror – Wallingford, CT

Situated on four acres of land, Trail of Terror is sure to please anyone who loves a good scare. Trail of Terror has a new theme each year. Each theme has a backstory and recurring characters which weave into different scenes on the trail. Once you enter the Trail, there's no turning back. Guests must venture through crawl spaces, squeeze walls, across a rope bridge, onto a boar, and through a vortex tunnel.

Creeperum – Hamden, CT

The Dark Maze of Creeperum has many scares waiting around each bend. You are faced with the dilemma once entering the maze: how to get out. Each twist and turn brings new difficulties. Faint glimpses of light may lead you to believe you're almost out, however you're really being led to a dead end. You may be separated from your group if you're not careful. There is no turning around, only moving forward!