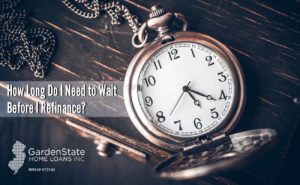 There are a lot of reasons to refinance your mortgage, whether to get a more attractive interest rate or to change the length of your loan. So how long should you or do you have to wait to refinance after getting a mortgage?
When Can I Refinance?
As long as there are no stipulations in your closing document from your mortgage lender that claims you couldn't refinance for a period of time, you can refinance at any time after taking out a mortgage. Most lenders indicate on your loan documents that there are no pre-payment penalties, which means you can sell or refinance at any time without penalty on the sales price. Homeowners can refinance their mortgage as many times as they want, but the most important thing for homeowners? Establishing objectives and finding a product which meets their financial situation.
Will It Save Me Money?
When considering refinancing, it is vital to determine if the action will save you money. A good rule of thumb is to only consider refinancing if you can decrease your current interest rate by a full percent. Three things determine your ability to save money by refinancing:
Length you expect to live in the home
Evaluate these factors and determine how long it will take for your refinancing savings to exceed your closing costs. Remember to analyze both your last refinance and your current refinance situation to determine if refinancing is worth the hassle. The costs of your last refinance are already accounted for in your current loan. If you refinance again, your new savings are added to the savings received in your current refinancing.