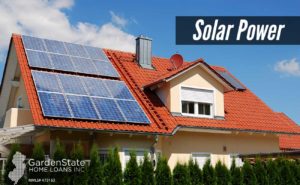 Solar power is an easy way to not only become eco-friendlier, but to also possibly lower your energy bill. The Department of Energy says most homes with solar panels receive about 40% of their energy from solar power. Additionally, if you buy a solar panel system, you may be eligible for tax credits or other financial incentives that offset your initial cost.
Is a Solar Powered System Right for Me?
The first question you must ask is whether solar power is right for you. Start by reviewing your utility bill to see how much energy you have been using in the last year and what it costs. Look for ways to reduce your home's electricity use, such as switching to energy efficient appliances.
Consider how long you will be in your home. Typical solar panels last about 20 years. If you think you might move in that time, ask about how the solar panels will affect your ability to sell your house. You might also want to ask your solar company about its policy on transferring the contract to a new homeowner after a sale.
What Size Should I Get?
Your average energy usage helps you determine the size of a system you need to get. Solar panel systems use one or more inverters to convert the direct current electricity into the alternating current electricity that would get used by your appliances and energy. The amount of total power you can get from a system depends on:
The average number of hours of direct sunlight your roof gets
The angle, age, and condition of your roof, and the compass direction it faces
The size and strength of your system
Factors such as snow, dust, or shade that could cover the panels
Keep in mind that if you have a homeowner's association, find out if you need approval before installing a solar system.
Buying a Solar Powered System
When you buy a solar system, you pay for the cost of the entire system, which typically ends up costing about the same as a mid-size car. If you plan on using a loan to pay for the system, make sure to ask
What will I have to pay upfront?
What will my annual percentage rate (APR) be?
Is there a balloon payment?
Will payments chance during the loan term?
Can the lender put a lien on my home or system?
Choosing a Company
As with anything, before choosing a company, ask trusted friends, family, and neighbors for references. Check the company's history with your state and ensure that they have the proper licensing and certificated required by your state. When you have narrowed it down to a few companies, get bids. Bids should have specific information about the system, including
The full cost of installation, including any building or electrical permit fees
Whether it's guaranteed to produce a certain amount of energy
What warranties apply to the equipment
The expected performance of the equipment and the size of the panels
Benefits
You may be able to sell or get credit for renewable energy certificated (RECs) related to the amount of electricity your system produces. A REC is separate from the actual amount of energy your systems produces. It is a certificate that proves you have generated an amount of renewable energy.