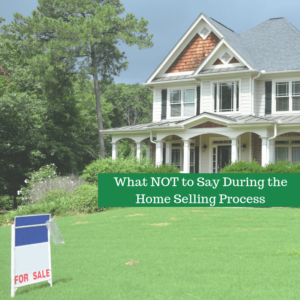 Selling a home can be a nerve-wracking experience. If you are planning to be in the home when there are buyers walking through, you may feel obliged to make conversation. But you should keep some things to yourself. Here are some examples of what not to say during the home selling process.
What NOT to Say When Selling Your Home
"Our house is in perfect condition."
This is a hard sell. Even if you think that the house actually is in perfect condition, the home inspection may prove differently. In the end, every house, whether new or resale, has something that could be fixed, replaced, or improved.
"We've never had an issue with (insert household item here)."
In addition to a possible embarrassing moment, this could be a potential liability issue. While you may not know of any issue, you don't want to say anything that may be the opposite of what may appear on an inspection report.
"The house has been on the market for…"
This information is already available for the buyer. They are able to see how long the home has been listed on the market inside the home inspection sheet. If you mention this to the buyer, the buyer may believe that they can go cheaper on the offer if it's been on the market for a longer period of time. In addition, the buyer may assume there is something wrong with the home if it has been on the market for a while.
"We spent a lot of money on…"
The buyer usually doesn't care how much money you spent on upgrading a certain part of the house. An upgrade doesn't mean that there will be more of a desire from buyers or that you will get more money in the resell. The buyer will care more about how they feel in the home.
"I'm not taking less than (x) amount for my home."
Just like how a buyer should not say they can only afford a certain amount or give an extremely low offer, a seller shouldn't say that they are not open to negotiation. This sends a message to buyers that you are inflexible, leaving buyers feeling defeated from the start, especially if they were going to try and work out a more acceptable price and term. If word spreads, people may start to avoid the house. No-one wants to view a house they know they won't be able to afford.
Those are a few examples of what not to say during the home selling process. If you're planning to move on in the Garden State, reach out to Garden State Home Loans today…we'll be happy to help you find the best rate for your new home!
Interested in more home selling and buying advice? Be sure to follow our Facebook page!