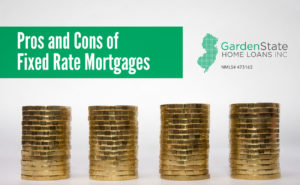 Fixed rate mortgages are mortgage loans with interest rates that do not fluctuate throughout the entirety of the loan.
Fixed rate mortgages are the most common and preferred mortgage type, but that does not necessarily mean they are the best choice for everyone.
Pros of a fixed rate mortgage
Predictability. There are no surprises when you know what your rate will be every month. With a fixed rate mortgage, you know exactly what you have to pay each month.
Comparability. Fixed rate mortgages make it easy to compare rate differences between different quotes.
Ease of mind. With a fixed rate mortgage, you won't have to worry about a potential rate hike, since you are locked into a fixed rate. People generally choose fixed rate mortgages when they don't expect to see a large drop in rates.
Cons of a fixed rate mortgage
Rate drops happen. Sometimes borrowers see a rate drop after locking in their fixed rate. During the housing market crash of 2008, rates plummeted. Borrowers who had a locked in rate of 5.4% before the crash were stuck at that rate while newer mortgages were being sold a 2.6%.
More Expensive. Fixed rate mortgages tend to be more expensive, as there is no rate break or early-on payment.
Not Customizable. Fixed rate mortgages tend to be almost identical from lender to lender, whereas adjustable rate mortgages are more customizable for the individual. If you are looking for something more specific to your situation, you may not find it with a fixed rate mortgage.