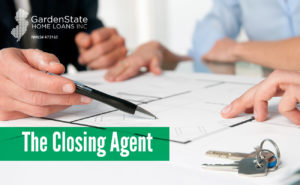 A closing agent is an impartial third party that deals with the final details of a mortgage transaction. As such, choosing a good closing agent is very important. Here is how to ensure that you choose the best closing agent.
Do your research

In addition to asking your agent or attorney, get referrals from friends, family, and colleagues. Once you have referrals, check the companies Better Business Bureau's (BBB) ratings. BBB rates companies based on their research as well as customer reviews and complaints. If a company has many complaints, you should avoid them.

Price should not determine your choice

Across the board, companies should have similar pricing as the government regulates these fees. Be leery of companies with exceptionally low rates. There is usually a reason a title company has lower fees. For example, they may not have a lot of experience or have a bad reputation. When choosing a closing agent, you want a company that will conduct a thorough title examination and will issue a proper insurance.

Ask questions

After assessing the company's appearance and professionalism, there are several things you should inquire about. Some questions you should ask include:

How do you handle potential title issues?
How many loans have you closed with my mortgage company?
Do you stay up-to-date within the industry?
Is there an in-house attorney?
Even though you will likely have an attorney of your own at the closing, the closing agent should also have an attorney on staff as well. An in-house attorney helps the title company with any possible issues that may pop up. These issues may include issues with the title itself, such as easement issues or old mechanic liens. An in-house attorney can also help with any issues with the closing document. Finally, the title company's attorney works to settle any issues that will cause any delays in closing.
What does your agent do?
An agent will
Obtain the title report and arrange for the issuance of policy of title insurance
Prorate costs such as property taxes, insurance, loan interest, and if applicable, rents
Collect paperwork, including financing disclosures
Transfer and record deed
Transfer your payment to the seller
How do you pay your agent?
A single escrow closing fee is used to cover all escrow closing services, except for title insurance fees. This amount is determined by the amount of money involved in the transaction. Local customs for geographic areas dictates who will pay what fees. In some areas, the buyer pays the title and escrow fees. In other areas, the seller pays half and the buyer pays half.