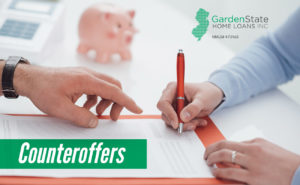 One offer on your dream home may not be enough. If a seller finds your offer undesirable, they may issue a counteroffer.
What constitutes a counteroffer?
If a seller doesn't find the buyer's purchase offer and terms agreeable, they can submit a counteroffer. Typically, a counteroffer states that a seller will accept a buyer's offer subject, but not limited, to the following:
A higher price
Increasing the size of the earnest money deposit
Changing service providers
Excluding or including personal property from the contract, such as a washer and dryer
Changing the closing or possession date
Modifying contingency time frames
Early release of deposits
Fixing a buyer's agent mistake
What's a normal number of counteroffers?
Just a seller can counter an offer made by a buyer, a buyer can counter the seller's counteroffer. If you find that the new offer isn't agreeable, you are more than able to send another counter back. You can submit as many counteroffers as you'd like until you get the deal you find agreeable.
Rejecting a counteroffer
There are a few different ways that a counteroffer can be rejected. A common way that counters are rejected is through the purchase agreement. Many purchase agreements have a spot on them for the seller to sign if they reject the offer. Most offers specify an expiration date. This is in case the seller chooses not to respond to the offer. If the expiration date passes, the offer is void. A listing agent can also email the buyer's agent to inform them that the seller is rejecting the offer. A seller is not required to formally reject an offer in writing. Therefore, be sure to keep on top of communication.
How to accept a counteroffer
The buyer can simply accept the counter and deliver it to the correct party if the counteroffer is issued by the seller. As mentioned before, counteroffers contain an expiration date, just as purchase offers do. This means that a seller can accept another offer on the home while the buyer is deciding to sign the offer. The seller will withdraw the counter offer if this happens.