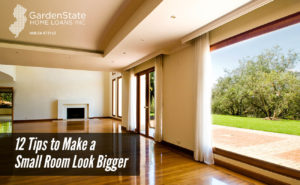 Not every room can be the biggest in the house. If you're faced with smaller spaces, you might find it hard to decorate. Here are some tips and tricks to maximize the space and make a small room look larger than life.
Paint or wallpaper the ceiling

Drawing the eye upwards makes a room feel bigger. Try painting your ceiling with a light color or a simple wallpaper print to get the perfect effect.

Use light colors on the walls and floor

While a dark color can make a room feel cozy, it does nothing for space illusion. Dark colors absorb light, making the room feel smaller than it actually is. Opt instead for lighter colors. Lighter colors reflect light to give the illusion of more space.

Same color, different shade

It's important to tie in your trim and ceiling with the rest of the room. Consider creating a color palette using different shades of the same color. Make the trim a slight shade darker and the ceiling a slight shade lighter.

Color coordinate

If you have exposed shelves, color coordinate the items on them. Not only does it give a more organized, and less cluttered look, but it also becomes a display piece. Keeping items color coordinated spaces items for each other and makes for a very visually appealing piece.

Hidden storage and multi-purpose items

In a smaller room, it's harder to have everything you want out in the open. Purchase a coffee table or ottoman that doubles as storage. You can also purchase light end tables with integrated drawers.

Smaller isn't always better

Decorating with a lot of smaller pieces can crowd a room. Instead, design experts suggest you opt for a few larger pieces, about the size of a cantaloupe, to decorate a room.

Pull furniture away from the wall

Pushing furniture up against the wall makes everything seem cramped. Moving your furniture a few inches away from the wall actually makes your space look more open. And, you can take advantage of the space behind your furniture by putting a table or shelve to create more surface space.

Furniture with exposed legs

Get rid of boxy chairs or sofas with skirts. Opt instead for bigger pieces with exposed legs to get an airy feel in your room.

Choose statement furniture

In a small room, multiple pieces can make a room look cluttered. Instead, get one large couch to make the room appear less crowded.

Let the sun shine through

Leave your windows uncovered to give a smaller room more depth. More light, especially natural light, creates the illusion of more space. If you're worried about privacy, use roman shades or blinds instead of curtains.

Mirror, mirror on the wall

Placing mirrors across from a window is the best way to reflect light and make a room seem larger. Mirrors in general help to make a room look larger.

Declutter

Get rid of unnecessary clutter in your room. If you haven't used something in over a year, it's time to donate it or throw it away.