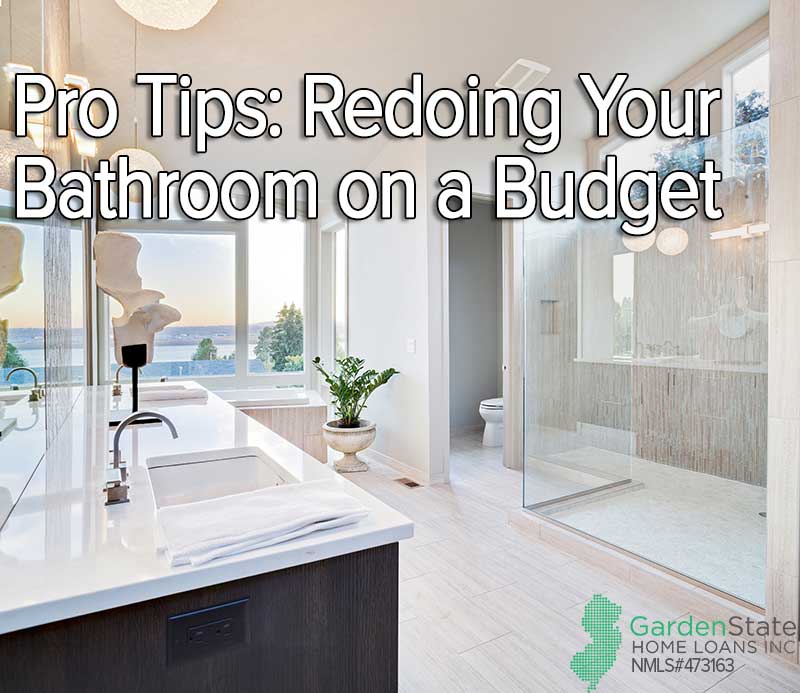 Are you feeling bored with your bathroom but don't necessarily have the funds to do a full renovation? No problem! Here are some quick hacks for redoing a bathroom on a budget and keeping your wallet intact.
Redoing A Bathroom On A Budget Tips
1. Make Little Changes
Instead of going all out and renovating your whole bathroom, start with little changes. Sometimes all you need is a new sink or mirror to make your bathroom feel like new. Even if you feel like you need more, doing it in stages keeps you from having to take a large chunk out of your savings at one time.
2. Keep It Light and Bright
If you're stuck with a small bathroom, consider repainting your walls. Light colors help to make a room look bigger and brighter. These walls are more reflective, which tricks your eye into making the space seem larger. Light colors also tend to reflect natural light, which help maximize the effect of the optical illusion. On contrast, darker colors absorb natural light, which can make a room seem smaller. So ditch those dark walls for white walls, or even a light blue or green, and enjoy your newfound "space".
3. New Paint and Accessories
New paint can make any drab bathroom feel luxurious. A fresh coat of paint could be just the thing that lets you look at your bathroom with new eyes. However, there are some things to note when painting. It might take more time than you think! You'll need to paint slowly around a lot of different utilities, and nooks and crannies (windows, and showers, and sinks oh my!). In addition to that, mold and mildew can develop easily in the bathroom, so it's a good idea to invest in a higher quality paint with a satin finish. There are also paints that are specifically made for bathrooms that help resist mold growth.
Another alternative you can implement is to replace the hardware in your bathroom. Find some new knobs for your drawers or a new sink faucet. Out with the old and in with the new!
4. Facelift What You Already Have
Not in the mood to go out and buy new cabinets, sinks, or whatever else you want to spruce up in your bathroom? Not a problem! Take a page from the hint above and use paint to update. You can paint your cabinets to make them seem like new or spray-paint your faucet bronze and beautiful.
Go classic with some black or grey paint, or add a pop of color with anything your heart desires. Maybe you're stuck dreaming of some marble countertops but can't justify the price. The internet always has an answer. There is marble contact paper that you can purchase for fractions of the price of actual marble. It looks exactly the same, but is simply a print on self-adhesive paper that is made for these type of projects.
These ideas only scrape the surface of the limitless DIY projects out there. Not every project needs a contractor to come in and the big bucks to go out.
Garden State Home Loans is your dependable loan provider for financing, pre-approval and home loan needs in NJ. Contact us today to find out how we can provide for your loan needs.