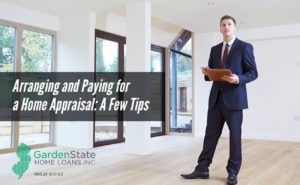 A home appraisal is a report that assesses and estimates a home's true value. During the mortgage application process, the appraisal is used to determine the market value of the home so lenders can make an informed decision on whether or not the amounted of money requested by borrowers is appropriate.
Home Appraisal Process:
The buyer/borrower makes an offer to buy the home.
Both buyer and seller accept the offer and sign a purchase agreement. The purchase agreement is then passed to the lender.
The lender will order an appraisal and the appraiser will determine its market value.
An appraisal report is delivered to the buyer.
Frequently Asked Questions about the Home Appraisal Process
How long does the home appraisal process take?
The appraisal process usually takes 3-10 business days to complete.
What does a home appraiser look for?
A home appraiser looks at the condition of the home's permanent features. They will not consider furniture or decorations in their estimate of the home's value. The home's physical characteristics such as the number of bedrooms and bathrooms, location, and square footage are factored into the appraisal.
Who pays for the home appraisal?
A home appraisal typically costs between $450 and $750. Although the lender usually arranges the appraisal, the borrower is ultimately responsible for any fees.
How Can I Get a Home Appraisal?
If you're considering selling your home, you'll want to get a good home appraisal. Here are some steps you'll need to take in order to do just that:
Find a qualified appraiser in your area. You can search for licensed appraisers here. Consider obtaining a referral from your lender.
Gather any and all materials that may be useful to the appraiser.
Make a complete list of any upgrades you've made to your home. Things like a furnace or a swimming pool can really make a difference.
Before appraisal day, clean up any clutter in your home and make sure all areas of your home are easily accessible.
During the appraisal, you don't need to follow the appraiser around — just let them do their job.
After you get the appraisal report, check it for any errors and assess whether or not it meets your expectations.
If you think your appraisal is not reasonable, arrange for a second one.