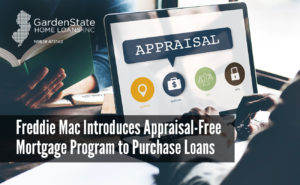 While trying to obtain a loan for your new home, your mortgage lender will require a home appraisal. The appraisal's an unbiased estimate of the home's value and ensures the amount requested for the loan is appropriate. They will need this before lending, for the simple reason of knowing the property is an underlying asset. Seeing that it is, it will serve as collateral for the loan.
On average, a home appraisal for a single family home ranges between $300-$500.
Well according to Freddie Mac, that's changing. On Friday, August 18th, Freddie Mac announced that they'll be cutting those appraisal fees completely for qualified home purchases or refinances. This could save borrowers up to $500 and expedite closing dates up to 10 days. The home appraisal is now done by a new Automated Collateral Evaluation (ACE).
What does the Automated Collateral Evaluation asses?
The Automated Collateral Evaluation assesses the need for a traditional appraisal by using proprietary models. In addition, it uses data from numerous listing services along with public records. It also uses the historical home values in order to determine to collateral risks.
"By leveraging big data and advanced analytics, as well as 40+ years of historical data, we're cutting costs and speeding up the closing process for borrowers," said Freddie Mac executive vice president of single-family business, David Lowman,
"At the same time, we're providing immediate collateral representation and warranty relief to lenders," Lowman said. "This is just one example of how we are reimagining the mortgage process to create a better experience for consumers and lenders."
Is every property eligible?
ACE deems a property eligible by submitting the collected data through Freddie's loan product advisor. In doing so, it will then assess credit, capacity, and collateral to decipher the quality of the loan. Lenders will then receive the risk assessment feedback.
Andy Higginbotham, senior vice president of strategic delivery and operations for Freddie Mac's single-family business, stated the loan advisor suite was launched back in July 2016. The goal of this was to give customers certainty, usability, reliability, and efficiency.
Earlier this summer, Freddie Mac announced that it had been using ACE on qualified refinances, which began on June 19, 2017.
As for home purchases, ACE will be available starting September 1, 2017.