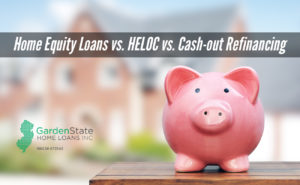 If you are looking to subsidize a large purchase or debt a high-interest loan may not be the best option. Instead, opt for either a home equity loan, a cash-out refinance, or HELOC.
Home Equity Loan
A home equity loan works much like a second mortgage, although usually smaller than a primary mortgage. With a traditional home equity loan, you borrow a large lump sum of cash and then repay that amount over monthly installments at a fixed interest rate. A typical repayment is done over ten to fifteen years. This option works well if today's interest rates are equal to or lower than your current mortgage rate.
A home equity loan allows borrowers to receive cash quickly. Lenders are usually able to approve a home equity loan faster than they would for a refinance. Additionally, interest on home equity loans may be tax deductible.
Home Equity Line of Credit (HELOC)
A home equity line of credit, or HELOC, offers more flexibility. Instead of obtaining one lump sum, a HELOC allows you to draw cash as you need it. Additionally, you only pay interest on the money that you withdrew. HELOC loans are often based on a 25 – 30-year term. During this term, the borrower only pays interest during the first ten years and the final 15 to 20 years while fully amortizing.
HELOCs are easier and quick to secure, as they have fewer lending restrictions. As stated before, since you can draw money at any time, you are only changed interest when you withdraw. However, because HELOCs have an adjustable interest rate, they can rise at any time, making certain payments higher.
Cash-out Refinancing
Cash-out refinancing allows you to get extra cash by obtaining a new loan that has a larger balance than your old one. This is another option for someone looking for a large sum of money. In addition to receiving a large sum of money, cash-out refinancing has a lower mortgage interest rate. In fact, if your rates are lower than what you pay now by one percent or more, you could get a positive difference in your monthly cash flow. Refinancing makes the most sense if you are planning to repay your mortgage over a short period of time.
However, cash-out refinancing can be a little more expensive. The closing process on a cash-out refinance can be lengthy and the closing costs can be up to 7% of the total loan amount. Additionally, once you choose to do a cash-out refinance, your first mortgage is reset. It can add years to your term to pay off everything.