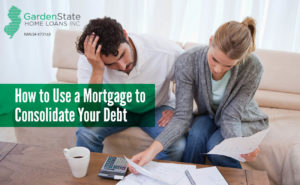 When you have high interest debt on auto loan, credit cards or other loans, they could be difficult to pay off and may hinder your financial goals. U.S. households carry an average of $15,762 in credit card debt, and in 2015, they paid the debt with an average interest rate of 13.66%. Many credit card holders pay even higher rates on higher balances.
If you own a house, one way to reduce your balances is to utilize the equity in your home. There are two ways to consolidate your debt with a mortgage: refinancing your existing mortgage or through cash-out refinancing.
Refinancing your existing mortgage
The history of low mortgage rates in the past few years is good news for homeowners who want to get rid of high-interest credit card debt. Refinancing your existing mortgage at a lower rate can not only reduce your monthly obligations, but also help you to pay off other debt.
Pros
The lower rate will save you money over the life of the loan and free up vital cash
Refinancing can extend the repayment schedule and reduce your monthly obligation
Cons
There will be other costs included in the refinancing process such as closing costs, origination fees and appraisals
Refinancing to extend payment time means you will spend extra years in debt and paying interest
Cash-Out Refinancing
Another way is to take out a new, larger mortgage that pays off the old one and leaves you with cash at closing to pay off your other bills. People like using this type of refinancing to consolidate their debts because they can make fixed payments on it over a set period of time, rather than paying a revolving balance every month. If you think this is a good method to reduce your debt, make sure you have sufficient equity in the property. For example, if your property is valued at $300,000, and you have $250,000 on your mortgage, you may be able to refinance the mortgage at the higher amount. However, cash-out refinancing also has some downfalls:
By binding your unsecured debts to your house, you have a higher risk of having a house that is worth less than you owe the banks.
Refinancing can cost 3% to 5% of the loan's principal, in addition to the costs associated with creating a new mortgage.
You may end up spending more in total interest costs depending on how long your new repayment plan lasts.