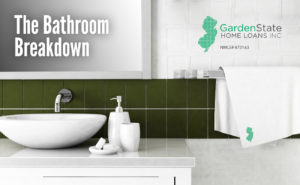 Have you ever wondered what exactly made a half-bath half? Did you know there was such a thing as a three-quarter bath? These are common questions among home sellers when trying to determine how to list and price their home. Here's your bathroom size breakdown.
Full:
A full bath is made up of four parts. These include a sink, shower, bathtub, and toilet. Anything less than that, and you don't have a full bath! A master bath refers to a full bathroom that is adjoined to a master bedroom.
Half:
Also known as a powder room or guest bath, a half-bath only has two of the four main bathroom components, a toilet and sink. A half-bath is usually located on the main level of multistory homes.
Three-quarter:
A three-quarter bath lacks one of the four bathroom components. Most houses have a shower stall, toilet, and sink. However, older homes may have a toilet, sink, and tub with no shower. If a tub isn't your style, don't worry! A three-quarter bathroom easily converts to a full bath. All you need to do is install a shower head over the tub and hang up a shower curtain! And voilà! You have a full bath!
Quarter:
This may seem very foreign to you, and for good reason! Quarter baths are very rare. As one could probably guess, a quarter bath has only one of the typically four bathroom elements. Usually, this element is a toilet. However, who doesn't want to wash their hands after going to the bathroom? A quarter bathroom may also refer to a room with just a shower, usually placed by a pool to rinse off after a day of swimming.
How to List It:
Each bathroom must be listed separately. For example, if your home has two full baths and two half baths, you must list it as that. You cannot list two half baths as one full bath. This helps to give potential buyers a fuller understanding of what the home looks like.