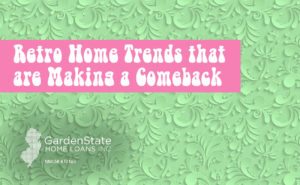 Modern trends are always changing and evolving and have a great impact on home design. Today's generation is embracing what previous generations had left behind by bringing it back into their homes. Older, popular wallpaper patterns are coming back as pillows or accent rugs and color schemes are returning in new and exciting ways.
If you're feeling a little nostalgic, here are a few retro home trends that can add a unique touch to your home.
Bright Geometric Patterns
Designers are starting to re-use geometric patterns that used to dominate wallpapers and laminate counters tops. From wavy diamond to ubiquitous boomerang-patterns, designers are incorporating these bold retro patterns in their homes. These patterns are being re-introduced into houses through pillows, throws, curtains and framed artwork.
These patterns are better used in small doses, so they don't overwhelm the eyes. They compliment beige spaces, by giving the space a pop of color that will make a bold statement.
Conversation Pits
These classic conversation pits convey togetherness and community. Conversation pits had bold colors and wild, graphic patterns along with shag carpets. A modern twist has taken over in efforts to engage with one another, to take the focus off our screens and talk to the people around us. Eliminating the television allows people to talk face to face with each other. These have also become extremely popular as a backyard feature too.
Conversation pits have also become extremely popular as a backyard feature too.
50's Pastels
Each decade has a color scheme that embodies and defines it. Although some color schemes may seem like they're far gone, they always seem to re-emerge with a new life. The bright pastels of the 50's are slowly but surely making their way back into the world of design. From sea foam green in bathrooms to pale yellow Cadillacs, designers are taking inspiration and are enjoying the modern-retro color palette.
Retro-Futuristic Light Fixtures
While this may sound contradicting, it is exactly what it sounds like. Retro-futuristic light fixtures borrow key elements from the past while putting a futuristic twist on them. Recent trends in light fixtures have truly embraced the retro-future style with designs such as the Sputnik chandelier and tension pole lamp.
Countless modern designers are using retro fixtures with a modern flare to them. Of course, there are original retro light fixtures out there that you can place in your home that will be just as nice.
Macrame Textile Art
The beautiful, heavy-knotted textile hangings are once again becoming a popular trend in recent years. Macrame textile art was originally seen in the 60's and 70's. Today, macrame is a staple in any Bohemian-styled home. They can hold plants, light fixtures, and bring a cool laid-back vibe to any room in your home.
If there is a retro trend you'd like to try in your home, give it go. There's nothing wrong with embracing the past. Everything deserves a second chance!