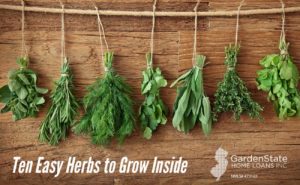 Many people take the opportunity in the summer to grow a garden in their backyard. As the weather turns colder, you don't need to give up your dreams of fresh herbs in your dinners. Bring that herb garden inside! Here are some of the best plants to perfect your indoor herb garden.
Chives
Chives can grow almost anywhere, making them the perfect addition to your herb garden. When it comes time, harvest chives by cutting them near the base. However, you shouldn't take more than one-third off the top. Cutting chives here stimulates future growth.
Mint
Mint lends itself to growing indoors and might be easier than growing it outside, as it has the tendency to grow wide. Containerizing mint restrains it from growing all over your garden. Any variety of mint can grow inside.
Basil
It is best to use a smaller globe type of basil when planting inside. Many of the larger forms of mint grow too big and can cause space issues in the future. Place basil in a south-facing window, as it likes a lot of sun and warmth.
Cilantro
Cilantro has a short-lived harvest time. In order to get around that and have cilantro for a long period of time, plant a succession of seedlings at two or three-week intervals. This will keep your supply going all the time.
Lemon Balm
To get the best flavor from a lemon balm plant, grow it year-round. Plant it indoors in the fall and continue to grow it indoors in the winter. Afterward, you can plant it outside for the spring and summer seasons.
Thyme
Thyme is a very adaptable plant and can be grown in pots as small as four to six inches. To start growing, re-pot a nursery plant or divide a larger plant that has been growing outdoors.
Oregano
Oregano is a very easy herb to grow and does well inside. However, the plant needs six to eight hours of sunlight per day. A well-lit, southwestern facing, window is best for oregano to grow.
Bay Leaves
Bay leaves is a perennial plant that does best using a container gardening method. Place the pot in east or west facing window. Make sure that the bay leaves do not get crowded, as it needs air circulation to remain healthy.
Parsley
If you are growing parsley from the seed, soak it in warm water before sowing it to crack the seed coat. Parsley likes full sun; however, it will still grow (slower) in an east or west facing window.
Lavender
A lavender plant doesn't need much sunlight. If the plant gets three to four hours of sunlight a day, it can grow up to over two feet tall. If/when it outgrows your windowsill, move it to a plant stand near a sunny window.
Helpful Growing Tips
When planting your indoor herb garden, don't put all herbs into one container as this inhibits growth. Containers should have drainage holes in the bottom and should be planted in terracotta plants, as this helps to prevent fungi from growing.
Use high-quality organic potting soil that has either vermiculite or perlite. Do not use soil from outside. It contains organisms that are controlled by the outdoor environment. Water herbs at the base of the plant, where the stem meets the soil. One of the biggest mistakes people make is overwatering their herbs.
Finally, if your herbs require more light, consider using clamp-on reflector lights with fluorescent bulbs. Clip on the light four to six inches away from the plant. If you notice any brown spots on the plant, this is a sign that the plant might be burning. This means that the lights are too close or have been on for too long.