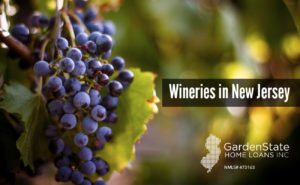 Napa Valley draws in millions of visitors each year. Tourists from all over come for the vast amount of wineries. However, you don't need to travel all the way to California to get the same experience! There are countless number of wineries in New Jersey throughout the state, making it easy to get the Napa Valley experience whether you live in North, Central, or South Jersey. Most of them offer wine tasting tours and many different types of special events during the year including festivals, concerts, grape-crushing parties and holiday themed celebrations. Here are some of the most popular wineries in New Jersey.
Popular Wineries in New Jersey
Founded in 1933, Tomasello Winery is the second oldest winery in New Jersey. They feature tasting rooms throughout the entire state, each exhibiting a unique atmosphere of beauty and charm. For shopping enjoyment, the tasting rooms are also home décor and gift shops. In these shops, you'll find whimsical hand selected home furnishings, along with gifts and sweets.
In addition, they offer many events, such as wine and cheese parties, Wine Education Seminars, wine tastings and wine dinners. Additionally, Tomasello Winery will help you make any event personalized with their custom labeling services.
Valenzano Family Winery sits on 88 acres of farmland in the center of the Pine Barrens. Their wines have been reviewed and recognized by not only local wine experts but national experts as well, winning many awards over the years. They've also won the Governor's Cup wine award two years in a row.
Guests can tour the beautiful grounds, or take part in a wine tasting at the bar or their patio courtyard. These tastings give you the opportunity to sample their various wines along with their delicious food selection. They also have live entertainments on select nights and special events several times throughout the year.
Dating back over 100 years, Renault Winery is New Jersey's oldest winery. In 1870, Renault started producing its own estate-grown champagne and has thrived ever since. The vineyard's soil and terrain are similar to southeastern areas of France, where Cabernets and Chardonnays originate. They also offer a long list of other homemade wines, sparkling wines, and detailed tours that show guests how their wine is made, from grape to bottle.
Renault Winery also includes on-site lodging at the Tuscany House Hotel. Throughout the week they have a full schedule of events, wine education classes, and fine dining, which makes it the perfect location for date night or a weekend away.
Laurita is a beautiful haven with its barn-like building that rises on a hill of manicured fields. Inside, there is a two-story tasting room and gift shop, a dining space complete with a gorgeous wall of windows, an outstretched porch overlooking the vineyards and a café where light food can be purchased. Laurita Winery is an affordable luxury, with their diverse and exclusive tastings. This winery will not break the bank.
They offer a lot of events such as food truck festivals, girls night out, ice sculpting in the winter, live music, and much more. They also have a bed and breakfast and healing spa to complete the experience.
Willow Creek Winery and Farm sits on 50 acres of beautiful land in Cape May. They are one of the only wineries in the county open all year long for tastings, tours, and private events. During the cold winter months, you can cozy up in their indoor tasting rooms, with wine by the glass or bottle. Once it starts to warm up, Willow Creek has picnic areas, patios, and porches that overlook the grounds for you to enjoy your wine on. They also have food selections that complement their wines. If you aren't too sure what to get, the staff can guide you to the right pairings.
Located in the pine forests of New Jersey is Sharrott Winery, a family-owned vineyard and winery, is an environmentally-friendly facility entirely powered by solar energy. Its vineyard, which was planted in 2005, is primarily fertilized with manures instead of chemical sprays. Sharrot Winery produces wine from ten different grapes, including fruit wines from blueberries, cranberries, and peaches.
Unlike many wineries, Sharrott keeps its wine presentation to a more informal setting, making it easier for newcomers to relax and ask questions. The winery is one of the most awarded wine producers in the state, having won awards at many competitions throughout the country.
This quaint, little winery offers a personal touch to any of their guests. Whether it's a tour or event, Four Sisters Winery welcomes everyone from wine enthusiasts to beginners with open arms. Although small in size, Four Sisters Winery offers a wide range of wines and sparkling wines. They hold themed dinners, packages for family-fun outings, and comedy club evenings.
There are plenty of great wineries in New Jersey, but these should help you get a start on touring the better ones in the Garden State. Reach out to us today if you'd like to know more about living here in Jersey.