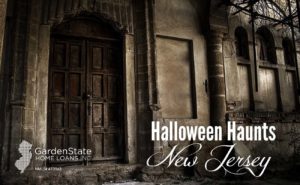 Are you a seeker of scary? You are guaranteed to get the scare of your life at these five locations in what is known as "Haunted New Jersey"!
Brighton Asylum – Passaic, NJ
Brighton Asylum is a nationally ranked haunted house, called the "Scariest Place on Earth" by the Today show and was named the #1 haunt in America for millennials by the Huffington Post. The attraction has also received accreditation from Fox News, Z100, and many others.
One of the most detailed, interactive, and unique haunted houses, Brighton Asylum is sure to scare. With plenty of options to choose from, you'll never know what direction your night will go in. Will you experience the Tunnel and the Asylum? Will you choose to participate in one of the four themed Escape Rooms? Or will you take on the all-new Zombie Attack attraction where you get to take on zombies with replica M4 rifles?
Haunted Scarehouse – Wharton, NJ
Regarded as one of the most original and innovative haunts, the Haunted Scarehouse boasts two floors of fear. Navigate your way through two haunted houses, with jaw-dropping props, disorienting noises, and actors that up the ante. Special effects, animated walls, and realistic set pieces will make the hair on your neck stand straight up.
The Field of Terror – East Windsor, NJ
The Field of Terror is the largest haunted attraction farm in all of New Jersey! There are over 120 acres of farmland that holds a Haunted Hayride, Field of Terror corn maze, and two haunted walkthrough attractions! Not a fan of being scared? Don't worry! In addition to the haunted attractions, The Field of Terror also has a family friendly flashlight maze.
Bloodshed Farms Fearfest – Columbus, NJ
Bloodshed Farms Fearfest has many different attractions for the 2017 season. Choose between Hellsgate Asylum (modeled after the 1950s), the Trail of Terror (a corn trail walkthrough), a walkthrough crypt, and the new Clown-o-phobia! If those aren't chilling enough, enjoy the classic haunted hayride! Enjoy the nightly party with a DJ, food, games, and roaming scare actors.
Scary Rotten Farms – Brick, NJ
Choose between two different themed haunts at Scary Rotten Farms. Sinister Sneed's Chaotic Carnival of Chaos follows Jacob Sneed, who crazily made a deal with the devil. Now, he has to deal with the consequences. He has to spend eternity gathering souls for the Devil, and he's starting here! You are put into a community that has been infected with a plague. Watch out for the infected, called the Empty. These victims of the plague experience high fevers, vomiting of blood, swelling of body parts, and become dangerously delusional and violent.
As you can see, Haunted New Jersey has plenty to offer for scary-seekers!