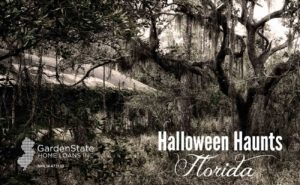 Looking for a good scare in Florida? Here are five hair rising horrors to get you in the Halloween spirit.
A Petrified Forest – Altamonte Springs, FL

A Petrified Forest boasts 85,000 square feet of horror. Located in the middle of the forest, this attraction is filled with creatures waiting to give you the scare of your life. This site is rated PG-13, meaning that you must be above 13 to go into the attraction alone. Children 12 and under need to be accompanied by an adult.

Scream-A-Geddon – Dade City, FL

Scream-A-Geddon has many different attractions for you to pick from. The Blackwood Prison is an interactive experience. Are you going to walk through and just watch as the prisoners take over the prison or are you going to truly interact? When you mark yourself, you throw yourself into an entirely new experience. You may be grabbed, held back, sent into hidden cells, removed from your group, or even forced to remain in the prison. Other attractions include the Deadwoods, a Haunted Hayride, Infected: Ground Zero (another interactive experience), Bedlam 3D: 3D Clown House, and Monster Midway. Monster Midway is the perfect way to start or end your visit. Food, drinks, fire pits, and so much more make this the perfect place to calm your fear.

Enigma Haunt – Boca Haunt, FL

Enigma Haunt features three different haunted attractions contained in 19,000 square feet. Walking through all three attractions takes just an hour, but can you handle the fear? Based on legends from the Everglades to the shores of Lake Okeechobee, all the tortured souls and demons have finally crossed over to our realm.

Haunt Nights – Jacksonville Beach, FL

Haunt Nights has three haunted houses, including Northeast Florida's only 3D Haunted House. Apocalypse 3D: Clown Takeover plays on the clown-induced panic that is plaguing the nation. Try to escape The Ringmaster and many other characters, including murderous clowns and circus freaks! Pinehurst Asylum has nurses that are dying to meet you, after all, there are many vacancies that are perfect for you. Finally, The Backwoods is a property kept by the Hatfield family and they're hiding something. Cannibals, mutants, and other creatures are wandering through the woods. Can you make your way back to civilization?

The Shallow Grave – Winter Haven, FL

The Shallow Grave is 13,000 feet of limit pushing. This attraction offers two haunted houses, Betrayal and Pavor Nocturnus. Betrayal has you navigating the halls of Thaddeus Van Burren's run-down property during an uprising. A Van Burren relative is stalking the halls and he's not looking for it to be the nicest of reunions. In Pavor Nocturnus, all your phobias come to life. Experience characters, scares, and themes that will leave your heart racing.