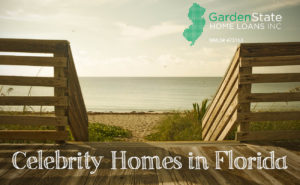 Warm weather, beautiful beaches, and lively atmosphere attracts people from all around the world to Florida. Taking advantage of these exceptional features, celebrities are now making Florida their new home. Whether it's the vibrant city of Miami or laid-back vibe of the Florida Keys, celebrities are flocking to the Sunshine State.
Floyd Mayweather Jr.
This retired welterweight boxer is one of the highest paid athletes in the world. Floyd Mayweather Jr. purchased a home in Miami for $7.7 million, entirely in cash! The ultra modern home contains vaulted interiors and Ipe wood sidings surrounding the property. The home's exterior also features a rooftop patio as well as a zero-edge pool, a deck, a private dock, and waterfront views.
This 5,200 square foot modern home has an open floor plan with gorgeous floor-to-ceiling windows and steel floating staircase. The five bedrooms and five baths mansion also contains a formal dining room and living room, a chef's kitchen, and beautiful white lacquer countertops and cabinets.
Derek Jeter
After his 2014 retirement, the New York Yankee's legendary shortstop decided to spend his time in Tampa. His 32,700 square foot mansion took two lots to build and costs $7.7 million. In addition to 320 feet of waterfront property, the home also boasts a stunning pool and spa.
This mansion has seven bedrooms, nine bathrooms, and four fireplaces. The master bedroom itself is an astounding 2,500 square feet. Add in his impressive entertainment room, two different three-car garages, five boat docks, and so many other amenities, Jeter's home sounds more like a resort than a residence!
Stephen King
The popular horror fiction novelist, Stephen King, lives on the west coast of Florida. Located on Casey Key, his 6,817 square foot house may be the priciest home on the coast. This home has 3 bedrooms, 4 bathrooms, a swimming pool, and a hot tub. When King bought the home in 2001, it cost approximately $8.9 million.
The author moved to Casey Key due to its secluded neighborhood. This area only consists of 600 people. Casey Key is a beautiful and luxurious hideaway for celebrities seeking the simple life.
Celine Dion
International superstar, Celine Dion, has a home on Jupiter Island in Florida. This 10,000 square foot home is located in one of the most expensive neighborhoods in the nation. The eight bedroom Bahamian-style home sits on six acres of land and has a water park sized pool, amazing views, and a 415-foot private beach.
With floor-to-ceiling windows and doors and neutral colors, Dion's home draws a nice and airy island atmosphere inside her home. The property has an impressive amount of additions, such as beach house with a massage room, tennis, basketball, and croquet courts, and a children's playhouse. The main focal point of this house is a man-made river pool winding throughout the main house and 3 guest pavilions. This pool also consists of various water slides and a water gun station.