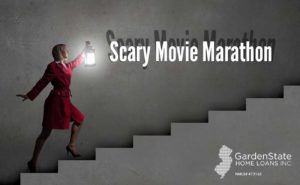 Halloween is right around the corner and there's nothing better than burrowing under a blanket and turning on a scary movie. Here are thirteen movie franchises to get your heart rate pumping.
The Ring (3 movies)

Be careful what you watch. The Ring is about a videotape filled with nightmare-inducing images. After you watch the video, you get a phone call foretelling the viewer's death in seven days. Rachel Keller is curious about the story. Her reporter ways get the best of her as she tracks down the video to watch it. She now has seven days to unravel the mystery behind the video and Samara, the girl in the well.

The Exorcist (5 movies)

The Exorcist is one of the most profitable horror movies ever made! This tale of an exorcism is loosely based on actual events. A worried mother seeks out medical help when her daughter Regan starts acting strangely – levitating and speaking in tongues. When she can't find any help in the medical community, a local priest says that he thinks Regan may have been possessed by the Devil and makes a request to perform an exorcism.

Nightmare on Elm Street (9 movies)

Several Midwestern teens are victim to Freddy Krueger, who preys on the teens in their dream – which kills them in real life. Nancy begins to investigate the phenomenon and uncovers a dark secret kept by her and her friends' parents that may help solve the mystery.

The Amityville Horror (16 movies)

George and Kathy find a beautiful new house for their family in Amityville, NY for their family. After moving in, they find out the cheap price they paid for the house is due to the home's history. The former tenant killed his family after being possessed (supposedly) by the Devil. The couple seeks out a priest to help them rid their home of the evil spirits.

Halloween (10 movies)

On Halloween night, six-year-old Michael Myers murdered his sister Judith. He was locked away for fifteen years, but on October 30th, while being transferred to a court date, he steals a car and escapes. He returns to his hometown in search for his next victims.

The Conjuring (3 movies)

Set in 1970, Roger and Carolyn Perron ask paranormal investigators, Lorraine and Ed Warren to their home to help rid their house of a supernatural presence. Though the manifestations started small, they began to elevate and become more frequent.

Friday the 13th (12 movies)

The history of murder in Crystal Lake doesn't deter counselors from setting up a summer camp, even though locals warn against it. However, soon they find themselves being stalked by a brutal murderer. The counselors struggle to stay alive against their opponent.

The Omen (4 movies)

American diplomat Robert adopts Robert when his wife Katherine delivers a stillborn child. Afterward, Damien's first nanny hangs herself. Father Brennan warns Robert that Damien will kill Robert and Katherine's unborn child. Later, Damien pushes Katherine off a balcony, causing her to lose the baby. More and more people around Damien die, Robert thinks that his son may be the Antichrist.

Poltergeist (3 movies)

Strange things start to happen to the Freelings family when ghosts begin to communicate with them through the television. What started out as friendly and playful turns frightening when Carol Ann, the five-year-old daughter, goes missing. The family turns to a parapsychologist and an exorcist for help.

Psycho (6 movies)

Marion Crane and her boyfriend Sam Loomis ran away after Marion stole money from her boss. They stop for the night at the Bates Motel when the rainstorm becomes too much to drive in. Upon arriving to the motel, they met the proprietor, Norman Bates, a man with an interesting relationship with his mother and a strong interest in taxidermy.

The Shining (2 movies)

Jack Torrance becomes the caretaker of the Overlook Hotel in Colorado for the winter and brings with him his wife Wendy and his son Danny. Danny is plagued by psychic omens. Over time, Danny's visions become more and more disturbing as Jack discovers the disturbing secrets about the hotel.

Child's Play (6 movies)

Dying murderer Charles Lee Ray uses black magic to put his soul inside a doll named Chucky. Karen Barclay then buys the doll for her son, Andy. Andy realizes the doll is alive after Chucky kills his babysitter. However, when he comes out and tells people of what he's discovered, he's institutionalized. His mother now must convince the detective that her son was telling the truth.

It (2 movies)

In Derry, Maine, seven young children face their worst nightmare. This comes in the form of an ancient, shape-shifting evil that emerges from the sewer every 27 years. The seven children band together to overcome their fears to battle the murderous clown, Pennywise.